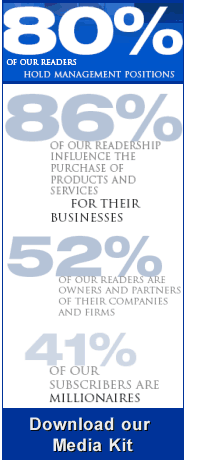 Where you market your company is one of the most important business decisions you can make. Each week, CEO's, senior managers and executives turn to the San Fernando Valley Business Journal. Our readers rely on our in-depth coverage to identify trends, local market forces, detect emerging competition and uncover new opportunities.

For 15 years, the San Fernando Valley Business Journal has delivered award-winning coverage of the greater San Fernando Valley region. Our first-rate editorial and research team provides comprehensive analysis of the community's ever-changing economic scene.

Given the connection we have with our readers, advertisers receive direct access to the decision makers ready to purchase and use their products and services. It is this direct link that makes the San Fernando Valley Business Journal such a wise and cost-effective advertising investment for companies trying to reach the greater San Fernando Valley business community. Advertising in the San Fernando Valley Business Journal is the only way to reach this affluent business market.

DISPLAY ADVERTISING

From weekly schedules to targeting specific issues or seasons, the San Fernando Valley Business Journal offers rates and sizes that are extremely cost-effective. We can also deliver your message as an insert into our weekly newspaper.

ONLINE ADVERTISING

With more than 14,000 on-line subscribers, SFVBJ.com is the premiere web-site for the greater San Fernando Valley region business community. From daily news alerts to skyscraper ads to customized reports, we deliver your message to our qualified and influential on-line subscribers.

Download the SFVBJ 2015 Editorial Calendar (pdf)


Download: the SFVBJ 2015 Schedule of Events (pdf)



For advertising information please call or email the Account Manager for your industry using the table below.
ADVERTISING ACCOUNT MANAGERS Phone: 323-549-5225
Name
Email
Ext.
Advertising Categories

Josh Schimmels

218

Associate Publisher - Contact for general advertising inquiries.

Marissa De La Cruz

219

Advertising Accounts Manager: Accounting; Education; Healthcare—Healthcare Companies, Health Insurance, Hospitals; Human Resources—Employment, Search Firms (Perm/Temp), Staffing; Nonprofit; Residential Real Estate—Agents/Brokers, Auctions, Escrow/Title; Hospitality—Arts & Entertainment, Casino & Gaming, Convention & Visitor Bureaus, Golf Courses, Hotel & Resorts, Restaurants & Catering, Sporting Events & Teams, Travel Agencies; Luxury

Eva Juse

222

Advertising Account Manager: Aviation; Banking—Banks, Savings & Loans; Finance—Asset Managers, Credit Unions, Money Managers; Insurance; Legal

Breanne Kamai

203

Events Manager

Mary Kaminiski

213

Events Manager

Amy Khudoyan

210

Events Coordinator

Ellen Mazen

240

National Advertising Account Manager

Kollene McGinley

264

Advertising Account Manager: Auto; Commercial Real Estate—Architects/Interior Design, Brokerage Firms, Building Services, Construction Companies, Constructions/Sub Companies, Developers, Engineering, Executive Suites, Landscapers, Property Managers; Radio, TV, Pubs; Digital—eNews Alerts, LA Tech Journal, Run of Site

Erin Moffett

216

Advertising Coordinator

Rosz Murray

215

Advertising Account Manager: People on the Move; Business Marketplace; Investment Properties; Special Projects

Maria Santizo

214

Events Coordinator

Darrin Sennott

220

Associate Advertising Account Manager, National Advertising Account Manager: Banking—Banks, Saving & Loans

Jim Slater

209

Advertising Account Manager: Gas, Petroleum; Green, Solar Power, Environmental; Manufacturing; Government—Defense, Political Advertising; Ports & International Trade; Seminars & Trade Shows; Technology & Telecommunication; Transportation; Economic Development Centers

Bob Washburn

201

National Advertising Account Manager
---
Want to talk to us?
Call (323)549-5225

Visit us
21550 Oxnard St, Ste 540,
Woodland Hills, CA 91367 USA.
Thank you!