AEROSPACE: COMPANY TO MAKE ENGINES FOR BOEING VEHICLE THAT WILL REPLACE SPACE SHUTTLE.
Rocketdyne in New Space Deal
Monday, April 25, 2011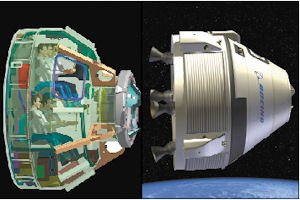 The technology PWR develops for Boeing can be applied to other space vehicles.
The abort launch system differs from those used in other spacecraft in that the orbital propellant is used to jettison the capsule away in case of an emergency. If the launch is successful, that same propellant gets used to maneuver the vehicle once in orbit.
"It gives you less weight and puts the same amount of people in space," Vilja said.
The other companies getting funding from NASA in the second phase of the Commercial Crew Program are Space Exploration Technologies, founded by entrepreneur billionaire Elon Musk, with $75 million; Blue Origin, in Washington State, with $22 million; and Sierra Nevada Corp. in Colorado with $80 million.
"The next American-flagged vehicle to carry our astronauts into space is going to be a U.S. commercial provider," said Ed Mango, NASA's Commercial Crew Program manager. "The partnerships NASA is forming with industry will support the development of multiple American systems capable of providing future access to low-Earth orbit."
---
Rocketdyne Engines Boost Launch
Contract: Project part of joint venture between firms.
A rocket using engines made by Pratt & Whitney Rocketdyne was launched April 15 from Vandenberg Air Force Base.
The rocket was carrying a spacecraft for the U.S. government.
The Atlas V was powered by a booster engine made by RD AMROSS LLC, a joint venture between Pratt & Whitney Rocketdyne and NPO Energomash. The upper stage of the rocket was powered by a PWR RL 10 engine that delivers 22,300 pounds of thrust.
"With nearly a half-century of flight, the RL10 continues to prove itself as the nation's most reliable upper-stage engine," said Jim Maus, director, expendable propulsion programs, Pratt & Whitney Rocketdyne. "We're pleased to see it continue that legacy."
--- Mark R. Madler
Prev Next