Universal Conjuring Up Harry Potter Attraction for Hollywood Theme Park
Tuesday, December 6, 2011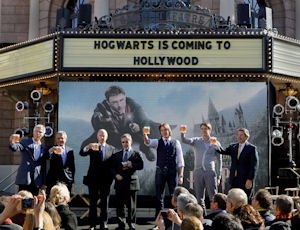 Universal Studios is bringing its popular Wizarding World of Harry Potter attraction to its Los Angeles theme park, a project that will boost theme park attendance.
A replica of Hogwarts castle will anchor the attraction at Universal Studios Hollywood announced Dec. 6 by officials from Universal and Warner Bros. Entertainment
Universal opened its first Wizarding World attraction at its Orlando theme park in 2010, and a second location helps keep the characters of the film franchise front and center before its fans.
The eight Harry Potter films, produced and distributed by Warner Bros., rang up a total global box office of $7.7 billion.
"Everyone involved with these projects is committed to continuing the enchantment of J.K. Rowling's masterful books as they were brought to life on screen in our eight films and dedicated to extending the magic of the experience for generations of fans to come," Warner Bros. Chairman and CEO Barry Meyer said in a prepared statement.
Specific details of the attraction will be released over time but Universal and Warner Bros. said the Los Angeles version will be done with the same commitment to authenticity and the same level of talent and resources as its Orlando counterpart.
"The Wizarding World of Harry Potter is an entirely new level of themed entertainment that brings the stories of Harry Potter to life in incredible ways," said Tom Williams, Chairman and CEO, Universal Parks and Resorts, in a prepared statement. "We are thrilled to be able to share this experience with our guests in Hollywood."