DONATE: ANTELOPE VALLEY HOSPITAL DOUBLED COLLECTION TO INCLUDE BICYCLES AND HELMETS.
Hospital Staff Donates Gifts to Marine Toys for Tots
Monday, January 9, 2012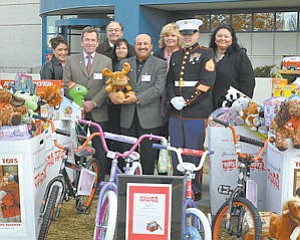 GIVING: This is a regular feature on philanthropic activities by Valley-area business people and companies.
Antelope Valley Hospital donated more than 400 toys to the Marine Toys for Tots Foundation last month...
Are you a current Member? Sign In