Van Nuys Runway to Close for Repairs
Tuesday, July 16, 2013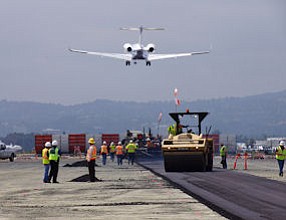 Aircraft operators at Van Nuys Airport will face a 10-day closure of the main runway starting Wednesday as part of a $14 million repair project.
Tenants at the Valley airfield with charter and management services have made arrangements for their aircraft to be based at other airports temporarily or be down for scheduled maintenance.
A shorter runway, now used primarily by propeller aircraft, would be available for some jet traffic during the closure of the 8,000-foot main runway, which will re-open at midnight July 27.
"We have every anticipation (the closure) will go as planned; the weather is working toward our advantage," said Curt Castagna, president of the Van Nuys Airport Association and president of the Aerolease Group that has hangar space at the airport.
When first announced more than a year ago, the repair project caused some tension between tenants and Los Angeles World Airports, owner and operator of Van Nuys.
The original plan from LAWA was for a total reconstruction of the 50-foot wide center, or keel section, of the main runway that would require a closure of between two weeks and four weeks. The Van Nuys Airport Association, the group representing the major tenants who own or manage aircraft, hired its own engineers who concluded the center section could be repaired with an asphalt overlay requiring a shorter closer period.
The two sides worked out a compromise for the asphalt overlay to be done on a 4,400-foot section of the runway while smaller sections would be completely reconstructed.
LAWA has done a good job with its outreach to the tenants to keep everyone on the same page and to mitigate the effects of the closure, Castagna said.
"The focus is on the excitement that at the end of this," Castagna said. "There will be a brand new runway and huge improvement to the operations of the airport."
Work that has already been completed includes a new blast fence, repairs to concrete runway ends and shoulder pavements, and new in-pavement approach lighting. A Federal Aviation Administration grant will pay for 95 percent of the repair project.