DEVELOPMENT: CITIGROUP SELLING LARGE DOWNTOWN SITE TO BUILDER.
Hundreds of Apartments Eyed for Glendale Block
Monday, September 30, 2013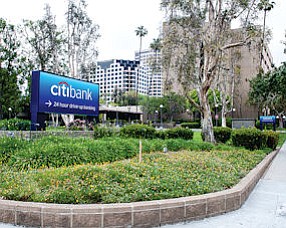 An entire block in downtown Glendale is being sold by Citigroup Inc. to a developer with plans to build an apartment complex that would be the city's largest project since the Americana at Brand mall.
Amidi Group of Redwood City submitted plans to the city on Sept. 18 for 532 live-work units on 3.2 acres at Central Avenue and Lexington Drive – amid a boom of multifamily development in the city.
The sale has yet to enter escrow and Citigroup declined comment. But one of the brokers representing the New York bank, Thomas Bohlinger, executive vice president at the El Segundo office of CBRE Inc., called it an "extremely complex deal" that is in the final stages of negotiations, which should be completed in about two months.
Rodney Kahn, president at Kahn Consulting Inc. in Glendale, who is working on entitlements for Amidi, said the project, which could start construction in 2015 and will stand out in the city.
"This isn't your traditional apartment project," he said. "Because this is a live-work environment, it certainly makes sense. It's a different product."
The property is currently occupied by a Citibank branch, a three-story parking structure and a six-story office building that has more than 300 Citigroup employees. As part of the application, that building would be converted into residential units and given a new façade. In addition, Amidi would construct two new buildings. The tallest will have eight stories.
The project would technically be considered mixed-use since it would include a 4,200-square-foot Citibank branch.
The total size of the development, including renovated structures, could run as large as 572,000 square-feet. By comparison, the Americana at Brand project, which includes 342 apartment and condos, totals 900,000 square feet on nearly 16 acres.
Sev Keshishian, associate and multifamily expert at the Encino office of Marcus & Millichap who was not involved in the deal, said the land could fetch about $30 million.
"Developers are banking on Glendale," said Keshishian, a long-time resident of Glendale. "The city is trying to attract a higher-income younger demographic for high-rise living near the Americana and downtown, which gives away why they approve so much construction."
Development central
Indeed, the multifamily project is being proposed as work proceeds on several others in Glendale totaling about 2,000 units, either entitled or under construction, in the downtown area, according to city officials.
Vancouver developer Holland Partner Group is constructing a 238-unit mixed-use project at Brand Boulevard and Wilson Avenue, just a few blocks from the Citigroup site. Also, Camden Property Trust of Houston is starting work on its 315,000 square-foot Glendale Triangle project, a 303-unit mixed-use development on San Fernando Road and Central Avenue in the southern part of the city.
And two weeks ago, the city gave tentative approval to Molasky Group of Cos. of Las Vegas to build a six-story, 167-unit mixed-use project on Central and Wilson Avenues. The project will include a CVS drugstore as its retail tenant.
Amidi, co-founded by brothers Rahim Amidi and Saeed Amidi, owns some local media-oriented office buildings, including two in Glendale and one in Hollywood.
It also has developed several commercial real estate projects, ranging from a business accelerator in Sunnyvale to multifamily live-work units in Oceanside.
Locally, it completed the TenTen Wilshire complex in 2007 just west of downtown at Wilshire Boulevard and Beaudry Avenue. The project involved converting the 360,000 square-foot former headquarters of Signal Oil Co. into 227 condominium units. It reportedly cost Amidi $50 million.
Hassan Haghani, director of community development in Glendale, said the developer's experience makes the group an attractive partner.
"This is a type of product that they understand and specialize in," said Haghani. "These people seem to have a very good idea of how to market their product."
Still, with all the development in the city there are some brokers concerned that supply will exceed demand.
"I don't understand what the thinking is because there doesn't seem to be a shortage of units available here," said William R. Boyd Sr., senior managing director at the Glendale office of Charles Dunn Co. "But this spot is ground zero when it comes to the city's core. There might not be a better site."
Mixed-use craze
The land is part of Glendale's Downtown Specific Plan, which allows for both residential and mixed-use development, so the project will not require a zoning change.
Amidi has sought an expedited approval process, and the project could come before the City Council as soon as Oct. 8 for stage one approvals, said Roger Kiesel, a senior city planner reviewing the application.
The Council will look at conceptual design, site plans and parking issues as part of the initial review process.
"Our goal is to refine and refine and refine so it can get through the Council. I think we'll be supportive of this," Kiesel said.
If the project receives initial approval, Amidi would then have to complete an environmental impact report, which would take months. It would have to return to the Council for final approval.
Bohlinger, Citigroup's broker on the deal, said the complex will be different than any other residential development in the city, including a pedestrian-friendly design that could include multiple paseos and a grand piazza.
"What makes this most different is that most apartment complexes close themselves off from the city," he said. "This will open itself up to the city. It's going to be spectacular."
The development will also feature a rooftop pool and meeting area and enough outdoor seating for casual business events.
And Kahn, the consultant, said the live-work units will meet a currently unfilled demand in the city.
"A lot of these startups don't have a lot of money," he said. "If they were in a traditional office building, they'd have to pay rent on both of those spaces. The whole incubator concept is engrained in live-work."
Matthew May, president of May Realty Advisors in Los Angeles, has worked on mixed-use projects for more than 20 years. He said the traffic in downtown Glendale is "terrible," but the changing demographics make mixed-use here to stay.
"There really isn't a way to completely mitigate the traffic," he said. "But people like urban energy. I don't think there's an issue with oversaturation as long as there's demand. And there is demand."