SEX ALLEGATIONS PROMPT COMPANIES TO RE-EXAMINE WORKPLACE CULTURE
Execs Vexed By Harassment
Monday, December 11, 2017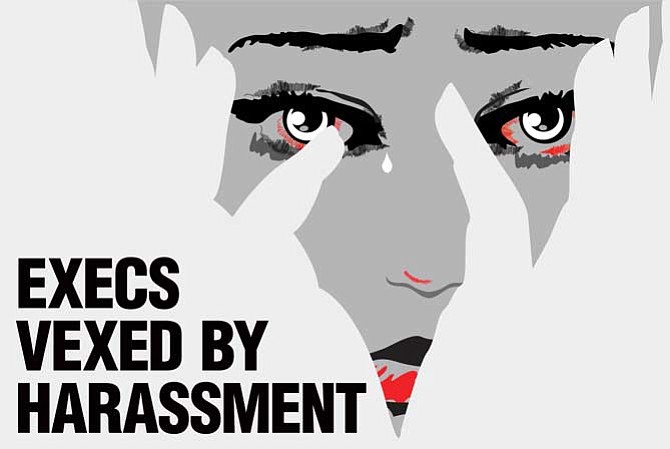 A little more than two months ago, a New York Times report on Weinstein Co. founder Harvey Weinstein revealed that the entertainment mogul had, for three decades, paid off women who had accused him of sexual misconduct. In the time since, one woman after another has come forward to share her experience of sexual abuse by an employer, toppling the careers of men in Hollywood and other industries.
No powerhouse is immune to the trend – even Burbank-based Walt Disney Co. came under scrutiny in mid-November following allegations that Pixar Chief Creative Officer John Lasseter had a reputation within the firm for hugging, kissing and inappropriately touching employees. Just before entertainment news outlet Hollywood Reporter published an article detailing the claims, Lasseter announced in a memo to Pixar staff that he would take a six-month leave of absence.
"I can't remember anything so pervasive, to be honest," Nancy Saperstone, senior business partner at human resources consultancy Insight Performance in Boston, told the Business Journal. "Usually when there's a large settlement, it's a one and done."
Not this time. As the roster of major companies with sexual harassment claims against star executives – not to mention local politicians, such as Woodland Hills state Assemblyman Matt Dababneh – continues to climb, some leaders worry that past transgressions, however benign they once seemed, could come back to haunt them.
"Everybody's paranoid right now," said Joe Molina, founder of JMPR Public Relations in Woodland Hills. "The thing that's scaring a lot of people now are the allegations that are going back decades. No one said anything back then – but now it's an issue."
Also disconcerting is the prospect of a former or current disgruntled employee attempting to exploit the energy of the upheaval by falsely accusing a former boss or co-worker of sexual assault. While such cases are rare, noted labor attorney Jon Light of LightGabler in Camarillo, the current climate of "guilty until proven innocent" could make it difficult to combat such a claim.
"It's very difficult to defend or protect against someone who's making something up," Light said.
A different time
While the alleged perpetrators who abused their power to the detriment of their employees are no doubt deserving of their public punishment, Molina said, some business leaders worked their way up the career later at a time when the expectations surrounding workplace gender dynamics were very different than they are today. Behaviors that were taken for granted back then would now result in a disciplinary hearing, at best – or, at worst, a subpoena from a lawyer.
"I'm not saying that (sexist behavior) was OK, but it was tolerated," Molina said. "The corporate world now realizes that you can't just roll your eyes."
Blatant sexual harassment or assault is never excusable, Molina added. However, if an executive is wondering whether he or she has committed a "gray area" offense that crossed the line, the first step to managing a potential public relations crisis is taking the concern to the company's human resources professional.
While honesty with oneself and one's HR and legal team is important, coming forward to address an issue publicly before it has been aired may not be the best course of action, noted David Lewis, chief executive of human resources consulting firm OperationsInc in Norwalk, Conn.
"If you're the individual who is the source of the harassment and know this is a skeleton in the closet, there are varying thoughts (on how to proceed)," Lewis said. "You could be kicking a sleeping dog by going ahead and trying to address something that hasn't come up in 20 years."
For high-profile businesses or individuals, having a reaction plan in place is key, Lewis added. Working with a crisis communications or public relations firm to formulate a response in advance could mitigate the fallout.
Start with culture
From a business standpoint, the mistakes of one individual are less important than the company climate as a whole, Lewis said. If a leader is misbehaving in the workplace, it's likely that employees are as well. When an executive finds himself or herself identifying with a company where employees say they they feel uncomfortable or unsafe, it's important to address whether the firm has a systemic problem.
"Culture is driven by leadership, and culture dictates whether or not the workplace allows for a hostile work environment to exist," Lewis said.
Leaders who read news stories and find themselves drawing parallels are off to a good start in terms of improving the workplace. Executives who have behaved inappropriately in the past may be unwittingly running their firms in a way that perpetuates antagonistic attitudes – and the sooner they can admit a problem, the sooner they can fix it, Lewis added.
"That's when you can come forward and say, 'I am not comfortable with how we operate as a business, and we are going to make changes,'" Lewis said. "That's a more productive way of addressing some of those skeletons, because at the end of the day, defensive behavior against one individual is missing the point."
Holiday precautions
Once management has identified an issue, it's time to talk about it. The first step is to find out how staff members are feeling – and the best way to do that is to ask them directly, said Molina at JMPR.
"That is the duty of human resources or the CEO," he said. "Hold a town hall and ask what employees are feeling, or take a confidential poll."
Training, of course, is the natural next move. Investing time and money in interactive workshops rather than web-based modules will ensure that employees are engaged, noted Insight Performance's Saperstone. The goal is not to check off the box, but to leave behind lessons that stick.
"If you really want your employees to listen, you do have to do face-to-face training as much as possible," Saperstone said. Her firm has found that real, honest dialogue on issues of sexual harassment is key to improving workplace culture.
"You don't want a sterile environment," she said. "You want to have a real discussion on the topic."
The approaching holiday party season would be a good time to bring up the issue, as incidents of inappropriate behavior tend to spike with festivities that involve alcohol, Saperstone noted. And speaking of alcohol, curbing consumption with drink tickets rather than an open bar is a good way to keep a check on behavior, she added.
"It sounds kind of not fun, but it makes a huge difference in terms of sexual harassment in the workplace," Saperstone said. "You have to look at what you're doing outside of the office as well."
Ambulance chasers
Even firms that have done everything they can to create a respectful environment are at risk of falling victim to false allegations, Molina said. This point will likely grow increasingly important to private companies as "ambulance-chaser" attorneys seek to capitalize on the movement by soliciting disgruntled workers who might be willing to abuse the legal process against former employers.
"In the future, if this continues, as sensitivities increase internally at companies, these (cases) aren't going to be about public individuals," Molina said. "These are going to be about private individuals that work for a company, and all employers need to know what their duties are."
For executives, that means pulling public relations, human resources and legal teams into a room to discuss the nature of the company's crisis communications programs. Company policies around harassment should be clear and up-to-date; once the company counsel has signed off on the wording, the policies should be reviewed with all employees.
"You need a letter from the top that says, 'This is what we stand for, these are what the rules are and this is how (infractions) will be dealt with – no ifs, ands or buts,'" Molina said.
Employers also should make sure employees know that management has an interest in their welfare, he added. All staff members should know who to contact for reporting sexual harassment issues, and any that arise should be dealt with immediately, Molina said.
"Be prepared, be informed and take action," he said.
From an attorney's standpoint, attempting to discredit the possible victim of sexual assault in a courtroom is a dangerous game, Light, the business lawyer, said. Private firms would do well to invest in insurance to cover sexual harassment claims – and, if one does arise and the evidence is murky, to let go of the leader or employee in question rather than risk a scandal.
"The reality is that in private situations, the safer strategy is to fire the guy," Light said. Companies should take care to document every step of the investigation process to show they released the employee in good faith, he added, in case the individual attempts to sue on the grounds of wrongful termination.
Above all, firms should understand that protecting employees from sexual harassment is the same as protecting themselves. Besides upholding the company's reputation – and saving money in legal fees – ensuring that every employee feels protected and valued makes for a more productive work environment.
"The message is not just to employees, it's to supervisors: You have to make (the office) safe and comfortable for your workers," Light said. "You have to spread the word that it's okay to come forward."