Workers Strike at Providence Tarzana Medical Center
Thursday, August 16, 2018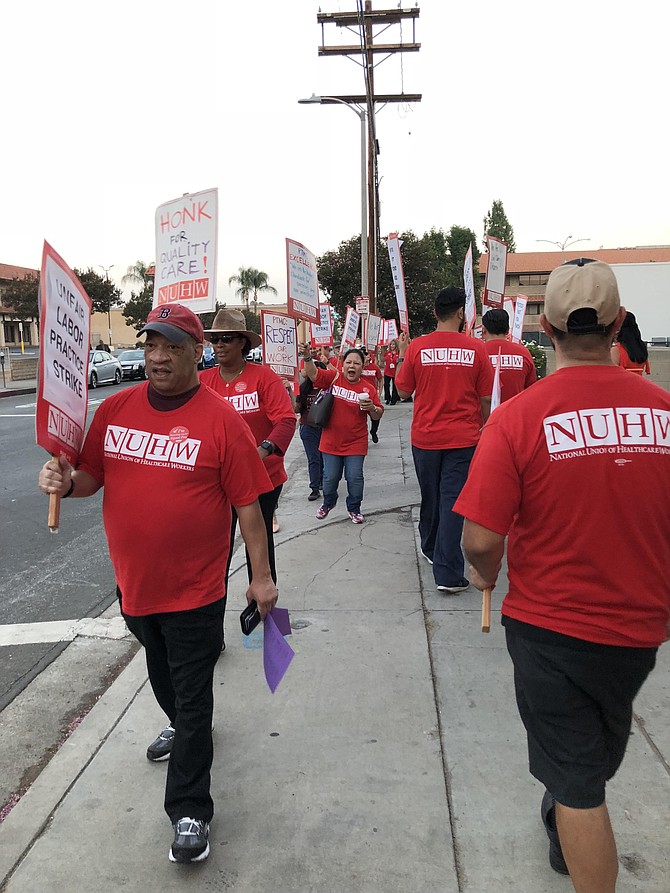 Hundreds of union-affiliated workers at Providence Tarzana Medical Center staged a one-day strike and a demonstration on Aug. 16 to protest what they described as unfair labor practices, including frequent shift cancellations and wages that lag behind the region's rising cost of living.
In response, the hospital evoked its contingency plan to replace workers on strike with temporary staff for five days - a move that the union, National Union of Healthcare Workers, described as a "lock-out." Providence Tarzana rejected that characterization, explaining that five days is a minimum term that the staffing agency with which it has engaged requires for the hospital to be able to use its services.
"Even if the strike lasts one or two days, Providence Tarzana must commit to—and pay for—the full five days of staffing," a hospital representative said in an email. "For this reason, caregivers who participate in the strike will not be able to return to work until our commitment to the temporary staffing agency is complete."
The medical center has been in contract negotiations with the union for nine months; workers picketed there in May. In addition to higher pay, the union wants language written into its new contract that prohibits calling employees off midway through shifts due to lower patient volume. Workers claim this practice, called "flex" scheduling, is becoming more common.
"Sometimes my shift is cancelled twice in a week," Nursing Assistant Manny Reyes, an eight-year employee of Providence Tarzana who works in the distributive observation unit at the hospital, said. He has had to use his paid time off to cover the days he does not work in order to be able to pay his rent and bills, which has kept him from being able take vacations, he said.
Providence Tarzana previously said that shortening or cancelling workers' shifts in keeping with patient volume is a standard industry practice. The Business Journal has reached out to the hospital with a request for additional comment.