Former Charles Dunn Brokers Join Lee & Associates
Tuesday, December 4, 2018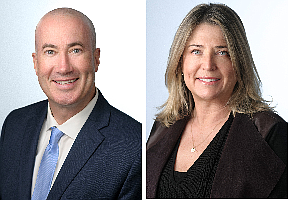 Commercial real estate brokers Stacy Vierheilig-Fraser and Todd Wuschnig have joined Lee & Associates - LA North/Ventura as principals, Lee President Mike Tingus announced.
"We've tried to recruit Stacy and Todd off and on over the last 10 years," Tingus said in a statement. "We knew that their outstanding reputation, their track record and their entrepreneurial approach made them a perfect fit for Lee, but the timing was never right."
Previously, both brokers, who specialize in the San Fernando Valley market, worked at Charles Dunn Co., which abruptly shuttered its brokerage services in October.
Across three decades, Vierheilig-Fraser has forged a career in office leasing and sales while Wuschnig, a 15-year veteran, handles office leasing.
Following the announcement, Vierheilig-Fraser and Wuschnig both shared their enthusiasm for the move with the Business Journal.
"It's an exciting new adventure for me after 30 years at Charles Dunn," Vierheilig-Fraser said. "I am looking forward to working with new people and collaborating on deals and bigger projects.
Added Wuschnig: "The change to Lee gives us a bigger platform as they have more offices and a larger presence in the market. … We'll continue to do what we've been doing as we will still be located in Sherman Oaks and able to better service our clients."