Hawaiian Heritage on Display in Dole's Rose Parade Float
Friday, December 28, 2018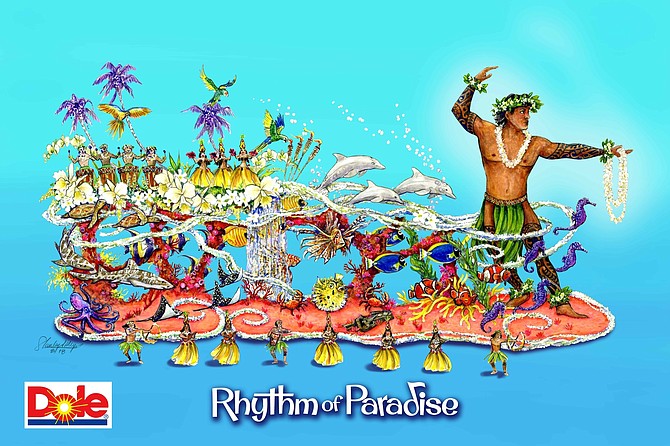 A division of Dole Food Co. will pay homage to the company's Hawaiian heritage with its ninth annual float in the Tournament of Rose Parade on New Year's Day.
Dole Packaged Foods, in Westlake Village, will also honor its commitment to hunger relief with the float, "Rhythm of Paradise."
The 24-foot float features lush floral gardens, a cascading waterfall, tiki torches, drummers, dancers and a 20-foot sculpture of Lono, the Hawaiian deity of music and peace. Lono holds a sunburst to represent optimism, showing how the community comes together for a brighter future.
Dole Packaged Foods partnered with Food Share, a food bank in Oxnard, on the float that is set in the theme of this year's parade, "The Melody of Life."
"Giving back is key to Dole's culture," Dave Spare, vice president of marketing for Dole Packaged Foods, said in a statement. "Music is a universal language that has the power to bring people together. This year we want to tie in 'The Melody of Life' theme and inspire communities to come together to help those in need."
The parade will take place along 5.5 miles of Colorado Boulevard in Pasadena starting at 8 a.m. on Jan. 1.