New Bus Route to Serve Warner Center
Thursday, June 21, 2018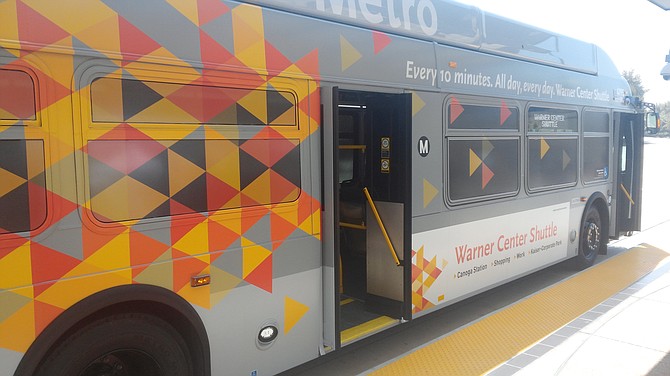 Representatives of Los Angeles County Metropolitan Transportation Authority, politicians, business leaders and Valley residents turned out Thursday to introduce a new shuttle bus to serve the Warner Center area in Woodland Hills.
Line 601 will operate every 10 minutes round the clock seven days a week with 40-foot buses, starting June 24. The route will have 10 stops with buses leaving the Canoga Avenue Orange Line station, going north on Canoga to Vanowen Street, west to Owensmouth Avenue, south to Oxnard Street, east to Canoga, south on Canoga to Burbank Boulevard and ending at the Kaiser Permanente Woodland Hills Medical Center before making a return trip.
The existing Orange Line station on Owensmouth will be eliminated.
The buses will have special signage and placards. "We wanted to give something to the Warner Center community that identified it as their bus," said Scott Page, senior director for service planning at the authority, known as Metro.
"We want to become part of the lexicon where everybody knows about the Orange Line shuttle," said Los Angeles City Councilman Bob Blumenfield, whose office worked with Metro staff on the shuttle project.
Joining Metro representatives for a ride on the shuttle on the Warner Center route were Stuart Waldman, president of the Valley Industry & Commerce Association; Coby King, vice chair of VICA; and Diana Williams, chief executive of the West Valley-Warner Center Chamber of Commerce.