Business Journal Repeats Winning National Award
Monday, June 25, 2018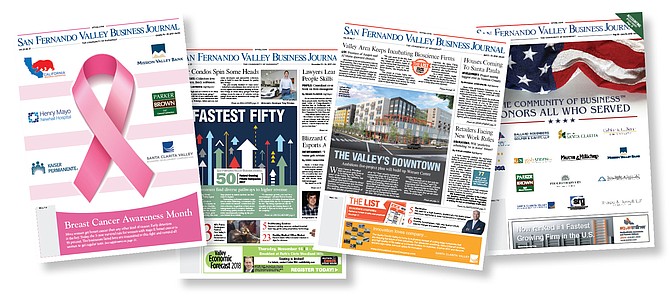 For the second straight year, San Fernando Valley Business Journal has won the Gold award as best small-circulation tabloid business publication in the nation.
"Congratulations to our reporters and designers, but also the companies that appear on our pages," said Editor Joel Russell. "The entrepreneurs and executives in the San Fernando and surrounding valleys provide a continuous stream of prominent business stories for us to write about."
The award was announced June 23 by the Alliance of Area Business Publications at its annual conference in Washington, D.C. The Business Journal won the same award last year when the organization held its conference in Dallas.
This year judges credited the Business Journal for its graphic design, story selection and use of photographs.
"This publication puts care into making sure that people see themselves throughout its pages," the judges wrote. "There is a good variety of content in its report, from news leads to profiles and commentary — it shows a breadth of coverage that seems comprehensive and clear. There are fun and strong headlines on stories that you don't see anywhere else."
The judges, who are faculty at the University of Missouri School of Journalism, also noted that the content "looks beautiful in its presentation; not only are there faces and plenty of photos of people, but also a good mix of strong single images and multiple photos in packages, which isn't always common."
The publication also won gold for best overall design in the small tabloid category. "Designers manage to create an interesting front page despite the high story count. Generous photo display takes good photos and makes some great. Good use of spreads. Illustrations, such as the one that goes with the story on harassment ("Execs Vexed by Harassment," cover story of Dec. 11, 2017 issue) are a good choice for concept art. Fundamentals of typography and white space are consistently strong," they wrote.
Charles Crumpley, the editor and publisher of the Business Journal, also won gold for his commentary "One More Thing" that appears on the final page of each issue. "Crumpley delivers a trio of well-sourced columns that blend opinion and a newsy edge," the judges said. "His ledes (first sentences) hook the readers, and he later roots his positions with statistics and color collected from field reporting."
Locally, the Business Journal collected a bronze award from the Los Angeles Press Club in the business story category for "Apartment Killer," a story about how developers canceled or curtailed apartment projections after the approval of Measure JJJ. Carol Lawrence, a former staff reporter who is now managing editor at sister publication Los Angeles Business Journal, wrote the story.
The Press Club gave the award in a ceremony on June 24 in downtown Los Angeles.