Plaza Opens at NoHo's Lankershim Depot
Friday, November 30, 2018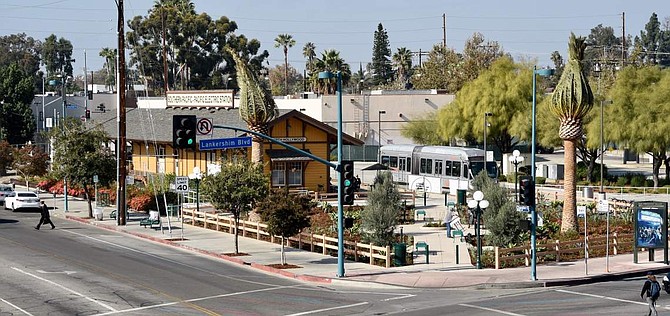 Los Angeles County Metropolitan Transportation Authority held a ribbon-cutting Thursday for a new landscaped plaza preceding the historic Lankershim Train Depot in North Hollywood, where Metro riders, residents and visitors can now congregate steps away from Metro Orange and Red Line transit stations at Lankershim and Chandler boulevards.
Previously a staging area for the construction of a Red Line pedestrian tunnel, the 8,500-square-foot space now features floral landscaping, diagonal pathways, outdoor seating and overhead lighting, according to a Metro announcement. Canary Island date palms and olive trees inform Metro's "California Garden"-inspired motif, a tribute to California's early horticultural beginnings which also includes drought-tolerant perennials, California natives and succulent plants. Landscape contractors Mott-McDonald and Anil Verma Associates implemented the concept.
In 2014, Metro established Lankershim Depot in a $3.6-million restoration effort, relying on partial funding from the former Community Redevelopment Agency. That project included creating a new foundation and roof, electric and plumbing systems, platforms, signage and seismic upgrades, as well as restoring sidings, eaves, windows and doors. A Groundwork Coffee outlet opened at Lankershim Depot in February 2017.
The city agency drew on history in restoring Lankershim Depot, the Valley's oldest unmodified railroad structure. In the 1890s, Lankershim Depot connected the region's agricultural industry to the ports. In 1911, the Pacific Electric Red Car line opened at this station, operating until 1952. Circa 1914, the plaza's park became a thriving public space utilized for local events and concerts.

Looking forward, the depot and plaza is scheduled to be joined by a neighboring mixed-use development project by Trammell Crow Co. and Greenland USA, which aims to create high-rise and mid-rise structures with retail, office and residential units adjacent to North Hollywood's Metro station.