Trader Joe's Supermarket Opens in Calabasas
Friday, October 5, 2018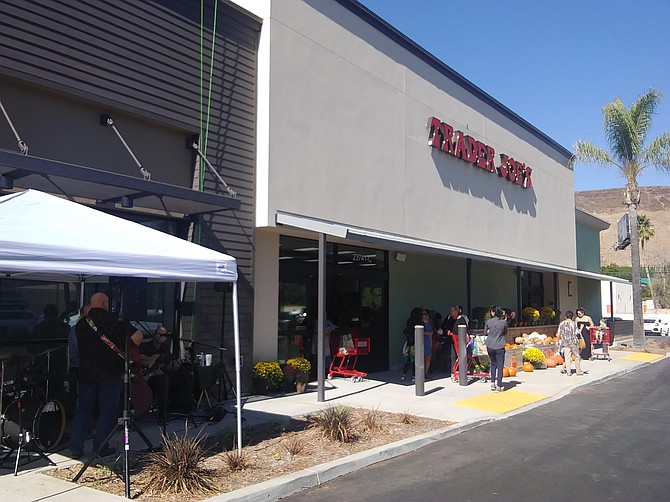 A new Trader Joe's supermarket has opened in Calabasas.
The 9,600-square-foot store, located within Courtyard at the Commons shopping plaza at 23741 Calabasas Road, celebrated its grand opening Friday with a ribbon-cutting ceremony headed by Calabasas Mayor Fred Gaines, and performances by Calabasas High School Marching Band and Conejo-based cover band The Fabulous Hangovers.
Hundreds of curious shoppers visited the venue — which occupies what used to house Babies 'R' Us, an offshoot of the recently shuttered Toys 'R' Us chain — to find an array of free product samples.
"We're really thrilled to have them," Gaines later told the Business Journal, anticipating a bristling synergy between the grocer and the Caruso-developed Commons at Calabasas mall directly across the street.
Sharing in the excitement of its first morning, Phil Gotto, the store's captain (or general manager), explained that he's been at the store since August preparing for this day and segueing from his role of two years overseeing the Trader Joe's location in midtown Ventura.
According to reports, this is the quirky, Tiki culture-tinged company's second attempt to open a store in the community. A decade ago, a Trader Joe's was supposed to go into the space that is today Erewhon Market at Summit at Calabasas at 26767 Agoura Road. However, economic fallout from the Great Recession toppled that plan.
While there are already Trader Joe's supermarkets in nearby Agoura Hills and in Thousand Oaks, this is the first branch of the Monrovia-based chain in Calabasas proper. Gaines said he expects the store to become an economic driver.
Trader Joe's neighbors at Courtyard at the Commons includes a Chase branch and Ulta beauty supplies. Since its 1958 inception in Pasadena, Trader Joe's has expanded to 482 stores nationwide. The Calabasas store represents the company's 180th location in California.