Stratolaunch's Giant Aircraft Takes Flight in Mojave
Monday, April 15, 2019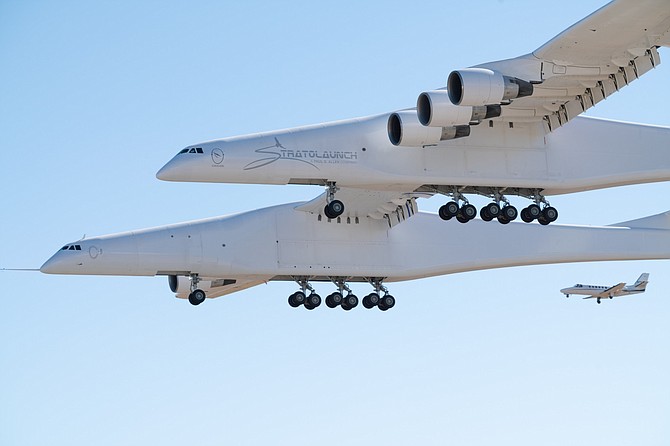 Stratolaunch Systems Corp. flew for the first time on Saturday the world's largest all-composite aircraft.
The plane with a wingspan of 385 feet – longer than a football field – took off from the Mojave Air & Space Port just before 7 a.m. and flew for 2.5 hours over the desert at altitudes up to 17,000 feet and a speed of 189 miles per hour.
Stratolaunch built the first-of-its-kind airplane to launch satellite-carrying rockets into orbit. Northrop Grumman Corp.'s subsidiary Scaled Composites made the craft at the Stratolaunch hangar in Mojave.
Stratolaunch was founded in 2011 by the late billionaire Paul Allen to launch satellite-carrying rockets into orbit as a lower cost alternative to ground-launched rockets.
Chief Executive Jean Floyd said the first flight furthers the company's mission to provide that alternative.
"We are incredibly proud of the Stratolaunch team, today's flight crew, our partners at Northrup Grumman's Scaled Composites and the Mojave Air and Space Port," Floyd said in a statement.