Warner Bros. Expansion Includes Burbank Studios, Gehry Towers
Monday, April 15, 2019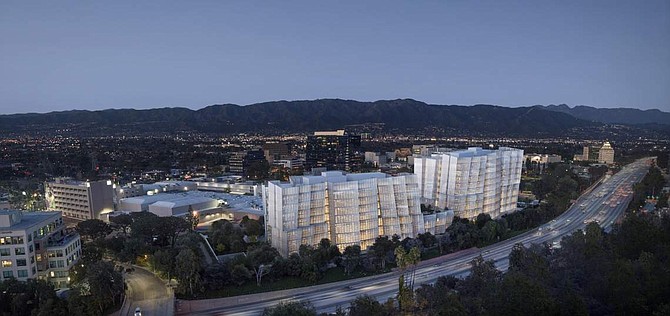 Warner Bros. Entertainment announced Monday major expansion plans for its Burbank headquarters, which will include the acquisition of a nearby studio complex and the creation of two Frank Gehry-designed office towers.
Warner Bros., a unit of WarnerMedia Inc., will purchase a portion of the Burbank Studios and become the sole and long-term tenant of the two Gehry towers, which Worthe Real Estate Group and partner Stockbridge Real Estate Fund will develop.
The announcement was made Monday in a joint statement by Warner Bros. Executive Chief Financial Officer Kim Williams, Worthe Real Estate Group President Jeff Worthe and architect Gehry of Gehry Partners.
Warner Bros. has dubbed the new endeavor Second Century Project, in homage to the movie studio's centennial, which it will celebrate in 2023 with the completion of the entire project. Construction will begin this fall, with occupancy of Phase I slated for 2022 and Phase II occupancy unfurling in 2023.
Burbank Studios is currently home to the soap opera "Days of Our Lives," IHeartRadio Theater and Blizzard eSports Arena, where Overwatch League competes. The complex once served as the headquarters of NBC Entertainment as well as the site of Studio 1, where "The Tonight Show" starring Johnny Carson and later Jay Leno was taped. Burbank Studios features production office space, eight soundstages, mill building and a commissary.

Also as part of the deal, Worthe Real Estate Group and Stockbridge will purchase three office buildings currently owned by Warner Bros.— the Triangle Building (4001 West Olive Ave.), Glass Building (3903 West Olive Ave.) and Wood Building (111 N. Hollywood Way) — as well as the 30-acre Warner Bros. Ranch located on Hollywood Way.
The sale of the three buildings is targeted to take place in late 2019, with Warner Bros. leasing the space back from Worthe/Stockbridge until those employees are moved to the new office space. The sale of the Ranch property and Warner Bros.' purchase of the Burbank Studios is expected to take place in 2023. Warner Bros. will also move employees from other leased space around the lot to the new campus.

Warner Bros. will complete its purchase of Burbank Studios and build the new Gehry office towers by 2023. The Ranch will continue to operate as a studio and office complex, with as much as 1 million square feet available for the potential development of more office and production facilities.

Warner Bros.' Williams said in a statement that the deal will be "an investment in our employees, our creative and business partners, and the Burbank community that will continue to be our home for decades to come."