Disney's 'Endgame' Breaks Box Office Record
Monday, April 29, 2019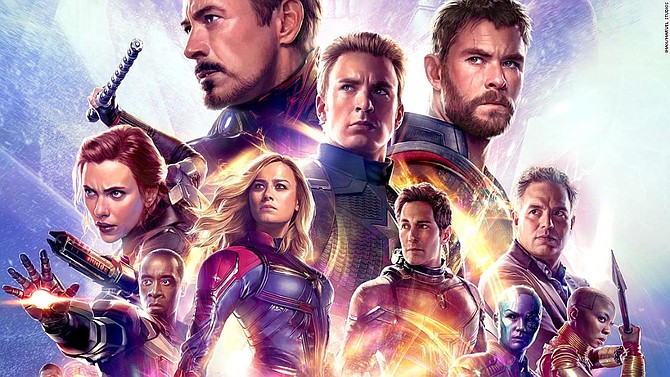 Walt Disney Co. broke box office records over the weekend with its latest Marvel film, "Avengers: Endgame."
The film from the Burbank entertainment and media giant brought in more than $350 million in its first weekend in domestic box office, while its total global take was estimated at $1.2 billion. No film has reached those numbers before.
The previous record holder was "Endgame's" predecessor film, "Avengers: Infinity War," which brought in nearly $258 million domestically and $641 million globally. "Infinity War" needed 11 days to reach $1 billion in global receipts versus the five days for "Endgame."
"Endgame," directed by Joe and Anthony Russo and starring Robert Downey Jr., Scarlett Johansson, Mark Ruffalo and Josh Brolin, is the 22nd film in the Marvel Cinematic Universe that started in 2008 with "Iron Man."
Walt Disney Studios Chairman Alan Horn said that Kevin Feige and the Marvel Studios team continue to challenge the notions of what is possible at the movies in both storytelling and the box office.
"Though 'Endgame' is far from an end for the Marvel Cinematic Universe, these first 22 films constitute a sprawling achievement, and this weekend's monumental success is a testament to the world they've envisioned, the talent involved, and their collective passion, matched by the irrepressible enthusiasm of fans around the world," Horn said in a statement.
Shares in Disney (DIS) closed down 62 cents, or less than a percent, to $139.30 on the New York Stock Exchange.