Westfield's Promenade 2035 Project Faces Public Hearing
Tuesday, April 30, 2019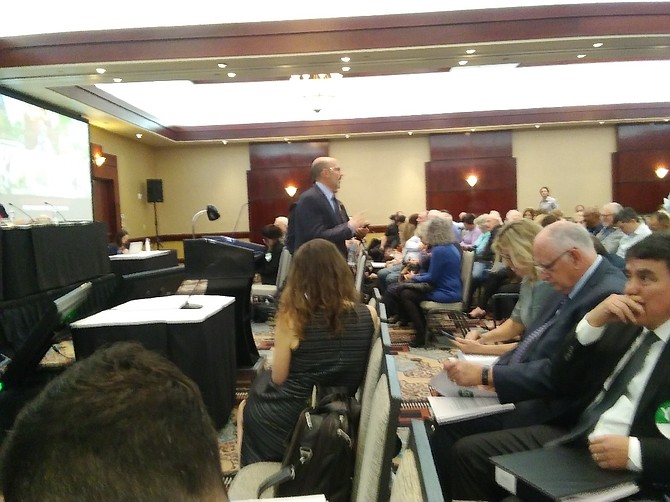 Westfield Senior Vice President of Development Larry Green went before a city of Los Angeles committee to sell representatives from various city departments on the developer's idea of a $1.5-billion overhaul of the Promenade mall in Woodland Hills.
Named "Promenade 2035," the project would bring more housing units and retail, hotel and office buildings, and a sports and entertainment venue to Westfield's existing property, bordered by Topanga Canyon Boulevard, Owensmouth Avenue, Erwin Street and Oxnard Street.
Before some 250 locals in a Hilton Woodland Hills ballroom, Green presented various aspects of Promenade 2035, including the 34-acre complex's proposed 1,400 residential units, hotels, shops, cafes, grocery store, dry cleaning and office building, plus 10-acres-plus of open space.
Westfield also envisions a 15,000-seat stadium at Topanga Canyon and Oxnard.
Green said more than 8,200 full- and part-time jobs at the development would generate $1.6 billion in total economic output and $12 million in net new annual revenues for the city's General Fund. He also spoke about Westfield's integrated parking and transportation strategy, especially regarding the stadium, which would not hold events during peak shopping hours.
Westfield has built up a reservoir of local support for its endeavor from business community leaders across the Valley, including the Valley Industry and Commerce Association, the Valley Economic Alliance, the Valley Cultural Center and West Valley-Warner Center Chamber of Commerce.
Speakers at the forum largely echoed that support and all of the advantages the Westfield expansion would bring.
Among the 70 people signed up for public comments, the project raised the ire of some residents. Two of the biggest Promenade 2035 elements inviting neighborhood opposition appeared to be the stadium and a lack of affordable housing. Woodland Hills Homeowners Association's John Walker commended the project overall.
"There are some components of the project that are actually good, but the stadium doesn't belong here," he said, suggesting that the venue needed to be revisited separately. "It's basically vague and out of scale. We don't know how big it will be."
"You can't tell us that there will not be traffic impacts," added Gina Thornburg.
Others at the hearing saw the stadium as a synergistic opportunity to boost their own agendas, such as Museum of San Fernando Valley Vice President Jackie Langa, who would like to see a historical and educational facility at the stadium "to attract people to this part of the Valley"; and David Honda, who would like to see his San Fernando Valley Fair staged at the venue.
Valley Economic Alliance Chair Randy Witt told the panel that the stadium "not only fulfills the (Warner Center 2035's) non-residential use but also creates jobs," he said. "We whole-heartedly recommend that you approve it."

Charlie Rausch of Los Angeles' Department of City Planning led a panel that included William Lamborn of the Deputy Advisory Agency; Melinda Gejer of Recreation and Parks; Georgic Avanesian, Engineering; Win Pham, Street Lighting; and Vicente Cordero and Armando Hurtado of Los Angeles Department of Transportation.
Westfield is a unit of Unibail-Rodamco-Westfield.