Glendale Apartment Complex Changes Hands
Monday, December 9, 2019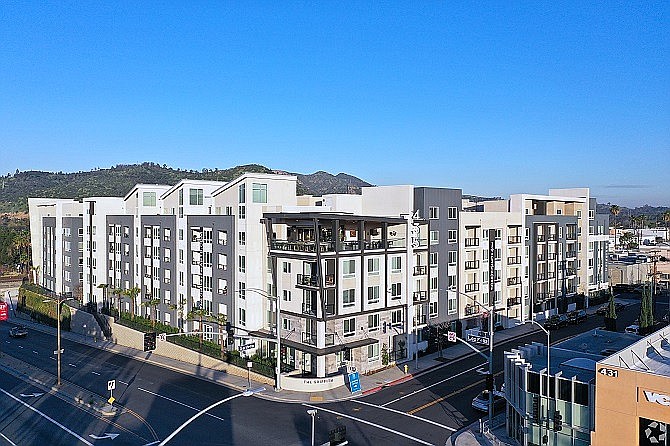 The Griffith, a 220-unit apartment building in Glendale, has sold for $119 million, records show.
Greystar Real Estate Partners purchased the property from AFL-CIO Investment Trust Corp. and PNC Realty Investors Inc.
Greystar did not return requests for comment.
Built in 2018, the six-story building was 93 percent leased at the time of the sale, according to CoStar Group Inc. It has one-, two- and three-bedroom units. Amenities include a fitness center, conference room, gaming area, clubhouse and a pool.
Experts say that the rental market for the Tri-Cities area (Glendale, Burbank and Pasadena), with a vacancy rate of less than 5 percent, is lucrative for investors.
"The Tri-Cities submarket … has gotten more and more popular," said Laurie Lustig-Bower, an executive vice president at CBRE Group Inc.
Investors, she added, are looking for walkable locations with amenities close to work hubs.
The Griffith isn't the only big multifamily sale in Glendale this year. In May, Dana Point-based Raintree Partners purchased seven multifamily properties in Glendale for $79 million. The buildings, which were sold by a private seller, had a combined 231 units. At the time of the acquisition, Raintree said it planned to upgrade exteriors and amenities at the properties, which will be called The Indie Collection.
Kitty Wallace, an executive vice president at Colliers International Group Inc., said "the Tri-Cities area has been a hot pocket because the office market has been a good market. Because there's jobs there, people want to live there."
She said many people there are "renters by choice."
Lustig-Bower expects 2020 to "be another strong year with prices holding firm."
She added that it's too soon to say if statewide rent control will affect sale prices, but "there could be an impact, especially in a case where a property's rent was significantly under market value. Now, with the new rent control laws, an owner would not be able to raise the rents quickly to market."
Wallace said the multifamily market will still be strong next year, but she does not expect to see a lot of new construction. Glendale, she said, passed an increase in affordable housing requirements for projects in the city.
"The building is going to come to a halt or a dramatic slowdown, with the exception of people who are affordable developers," Wallace said.
Still, she expects to see moderate rent growth in the area.