New Details on Adler Realty's $1 Billion Warner Center Development
Thursday, December 19, 2019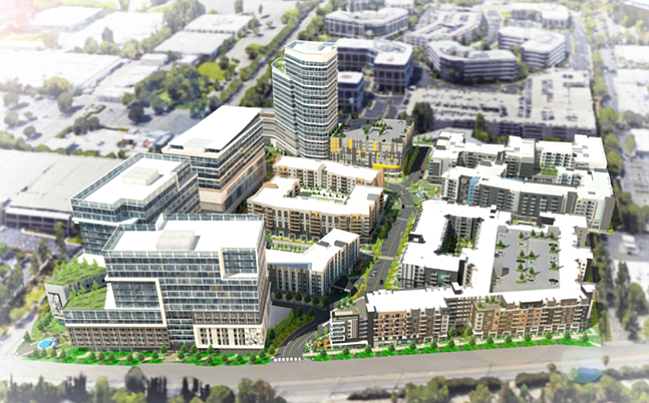 New information has surfaced regarding Adler Realty Investments' $1 billion mixed-use development in Warner Center.
Details on the Woodland Hills project were shed by an environmental report filed with the city of Los Angeles, according to an Urbanize.LA report.
Adler, which owns the Warner Center Corporate Park at Burbank Boulevard and De Soto Avenue, originally announced in 2017 a plan to raze the 24-acre site and redevelop it.
The upcoming version of the property will see 12 buildings with 1.14 million square feet of office space, about 80,000 square feet of ground-floor commercial space, 841 rental apartments, 168 condominiums and a 228-key hotel.
The dozen buildings will be a mix of low- and high-rise structures, including seven podium-type and wrap buildings along the north side of the property, and several 15-story office towers lining Burbank Boulevard to the south. The tallest building will be a 24-story, 350-foot tower.

Facades will see exteriors made of stucco, masonry, glass and wood.
For parking, Adler will create a series of subterranean and podium parking structures with some 5,548 spaces. New internal streets cross-cutting the property will allow for automobile access.
Adler is currently waiting for approvals from the city, after which construction will occur in eight phases across 25 years between 2020 and 2035.
The project will overlap with many simultaneous multi-phase developments by other companies, led by Unibail-Rodamco-Westfield's billion-dollar overhaul of the Promenade mall, which will bring housing, office space, hotel and a sports arena to Warner Center; as well as at least five residential projects from California Home Builders in Canoga Park.
Adler is also developing a six-story, 37-unit housing project on Vanowen Street.