Forecast: National Economy, Local Real Estate Stay Strong
Thursday, February 7, 2019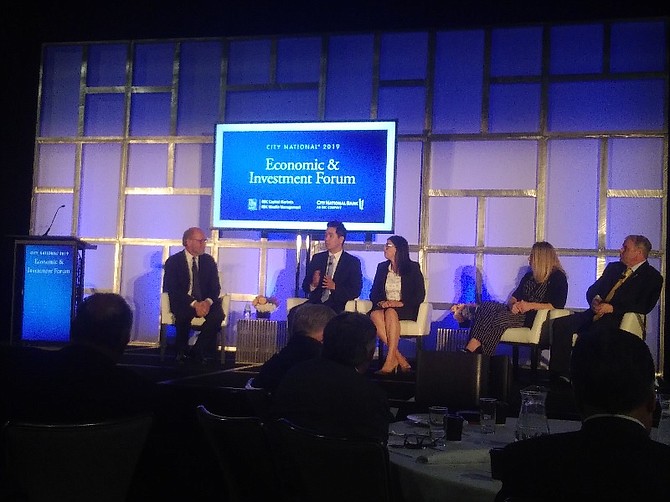 The economy may be showing signs of a slowdown, but the underlying fundamentals are strong.
That was the takeaway from City National Bank's Economic & Investment Forum, held Thursday at Four Seasons Westlake Village.
CNBC and MSNBC contributor Ron Insana served as keynote speaker and City National Rochdale Managing Director Paul Single, who delivered the financial markets update, also moderated a panel with City National Bank Vice President of Foreign Exchange Andrew Kositkun; City National Vice President of Real Estate Banking Kelly Russell, International Banking Vice President Carmen Sanchez and City National Rochdale Senior Portfolio Manager Simon Chapman.
Single said national consumption is up 2 percent and given that consumption makes up 70 percent of the economy, that is substantial.
"Slow and steady wins the race," Single said, noting that unemployment is at a historic low as the U.S. has gained 21 million jobs since coming out of the Great Recession.
"There are now more job openings than people can fill it," he said.
Single said that while the fundamentals behind the U.S. economy are strong, anxiety regarding a trade war with China is why the stock market has seen much volatility in recent months.
"The comments we hear from companies is that they were very concerned," Sanchez said.
China, Canada and Mexico are the U.S.'s top trading partners, and China is the largest provider of imports to the U.S. – but the U.S. is not China's top importer.
Russell discussed current trends in the regional real estate market and how the exception to a dismal residential market nationwide is California, where rates are strong. She spoke about pre-leasing of buildings with local rental rates exceeding a projected $3 a square foot to $3.75 "in a tight market in Burbank where you don't have a whole lot of new supply there. There's also strong demand for industrial; they're getting swooped up by tenants, which is up from two years ago."
Insana, who attended Chaminade College Preparatory High School in West Hills and landed his big break in television news after Chaminade pal and current CNN news director Casey Wian, gave him a leg-up at CNBC's predecessor, Financial News Network, said that barring unforseens such as the U.S. getting involved in a war over Venezuela, the economy will remain in a solid place.
"With the exception of residential real estate, every other national economic metric has exceeded its 2007 peak," Insana said. "The Fed has done an outstanding job of keeping us out of a depression."