Economic Breakfast Sees 'Uncharted Territory' Ahead
Friday, February 8, 2019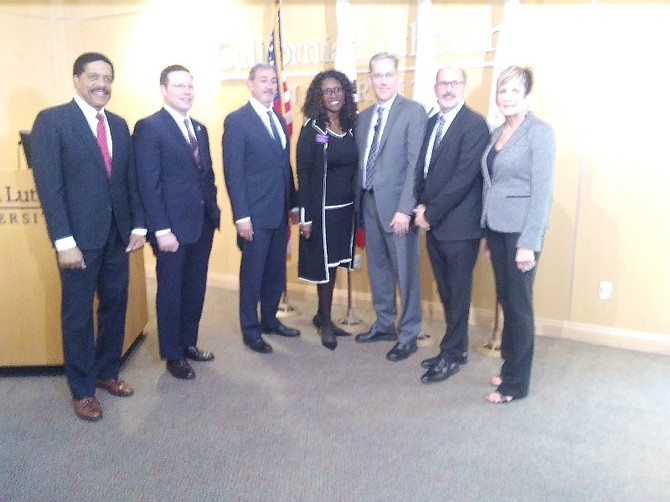 Rotary Club of Thousand Oaks and California Lutheran University presented the 2019 Economic Outlook Forecast Breakfast on Friday at Cal Lutheran's Sports Center in Thousand Oaks.
The event's centerpiece was a panel with Mathew Fienup, executive director of Cal Lutheran's Center for Economic Research and Forecasting; Larry Green, executive vice president of U.S. development for Unibail-Rodamco-Westfield; land planner and entitlement consultant Brad Rosenheim of Woodland Hills-based Rosenheim & Associates; Westcord Commercial Real Estate President Rick Principe; Philip Denlea, regional vice president of Logix Federal Credit Union; and Regina Biddings-Muro, vice president of university advancement at Cal Lutheran.
After opening remarks by Rotary Club of Thousand Oaks Chair Patrick McCoy, the philanthropic organization chapter's Lois Curran-Klein, owner of Westlake Village-based title consulting firm LCK Enterprises, moderated the panel.
Westfield's Green and Cal Lutheran's Fienup served as keynote speakers. Fienup dissected some "very exciting and very troubling" economic headwinds and tailwinds affecting the region.
Regarding the big picture, Feinup explained that, in addition to the United States' trade war with China, dissolution of NAFTA and assumption of toxic assets incurred by banks during the Great Recession, one of the largest silent killers of the national economy is interest on money parked at the Federal Reserve Bank that quickly ballooned to $2.7 trillion.
"This is one of the reasons we saw anemic growth following the financial crisis," Fienup said, adding that the Feds' monetary policy "is a major concern," warning that the economy may soon enter "uncharted territory."
The economy of California, a state blessed with natural resources, ports and creative industries such as Hollywood and Silicon Valley, has traditionally grown faster than that of the rest of the nation. Nevertheless, Fienup foresees a slowdown, and regionally, where not many permits were issued for real estate development, a continued 0 percent growth for 2018 and 2019.
"We simply don't build enough," said Fienup, who nevertheless praised Thousand Oaks' approach to stimulating development.
Reflecting on his 26 years with Westfield and its $60 billion portfolio of assets, including Westfield Village at Warner Center, Green opened with "I'm really a mall rat," adding that previous to Westfield, he helped establish Thousand Oaks' venerable Janss Marketplace.
"There's a lot of discussion of reimagining retail," Green said, and while Baby Boomers have stopped spending, he believes Millennials and younger generations will keep patronizing tenants such as Apple, AMC, Best Buy, Target and Amazon Inc.-owned Whole Foods, while having a Costco on site becomes a driver of traffic to these businesses.
"We embrace Amazon," Green said. "We want Amazon in our centers."