Warner Center Stadium Goes Forward With 7,500 Seats
Tuesday, July 23, 2019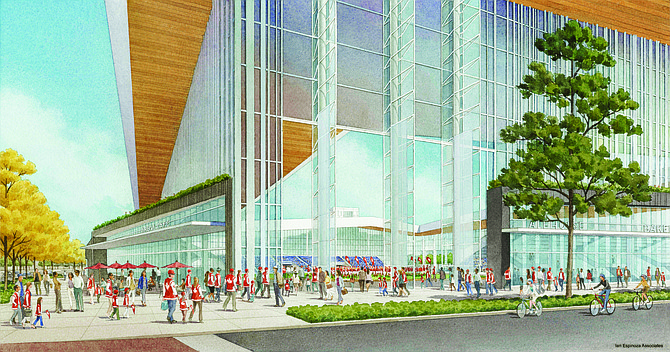 A zoning administrator has signed off on an early step toward the establishment of a sports and entertainment stadium in Woodland Hills on 34 acres of the Westfield Promenade mall that has been earmarked for a major redevelopment.
However, the approved 7,500-seat venue, at roughly half of the 15,000-seat stadium originally planned by Westfield, appears to be something of a compromise, bringing down the scale of the proposed Valley sports arena when compared to the number of seats at venues such as downtown Los Angeles' Staples Center (21,000) and the Forum in Inglewood (17,500).
In a statement, a Westfield spokesperson expressed disappointment in "some of the specifics regarding the sports and entertainment center," however, was satisfied with the project's approval.
"We're pleased that the determination letter embraced the idea of an entertainment and sports center, as well as approved its size within the overall footprint of the Promenade Plan," Larry Green, executive vice president of development at Unibail-Rodamco-Westfield, told the Business Journal. "We look forward to a continuing conversation about the importance of having a facility that compares in seating capacity and quality as those serving other parts of greater Los Angeles, as well as one that will act as a catalyst for further economic growth in the Warner Center's Downtown District."
Green emphasized that the Promenade Plan is still in the early stages.
"With any ambitious vision, there are points of negotiation and discussions that will occur," Green continued. "We will continue to work with the city and community to respond to their comments and resolve issues. As always, we are committed to a robust community process, which reflects the more than two decades of conversations with neighbors and embraces the vision of the Warner Center 2035 Plan."
Meanwhile, L.A. City Councilman Bob Blumenfield, whose district includes Woodland Hills' Warner Center — the site of Blumenfield's initiative to transform the neighborhood into the San Fernando Valley's downtown — called the move "reasonable" given a general "lack of information" regarding the stadium's operating partner or its exact usage.
Earlier this year, Westfield revealed its plans for an overhaul of the Promenade in excess of $1 billion, to include 1,400 residential units, 244,000 square feet of retail, a 570-key hotel and 5,610 on-site parking spaces. As part of this redevelopment, spearheaded by the mall developer's European parent company Unibail-Rodamco-Westfield, the stadium would rise at the northeast corner of Topanga Canyon Boulevard and Oxnard Street.
The stadium is not without its community opposition. At recent town hall meetings, a segment of local residents have expressed NIMBY pushback toward Westfield's ambitious project, lamenting such potential problems as unruly crowds, increased pollution, anticipated traffic congestion and a skyrocketing of parking and short-cuts through residential streets.
The approval is not final. Residents will have until Aug. 1 to file an appeal.