Greater Conejo Chamber Holds Beatles-Themed Gala
Monday, March 4, 2019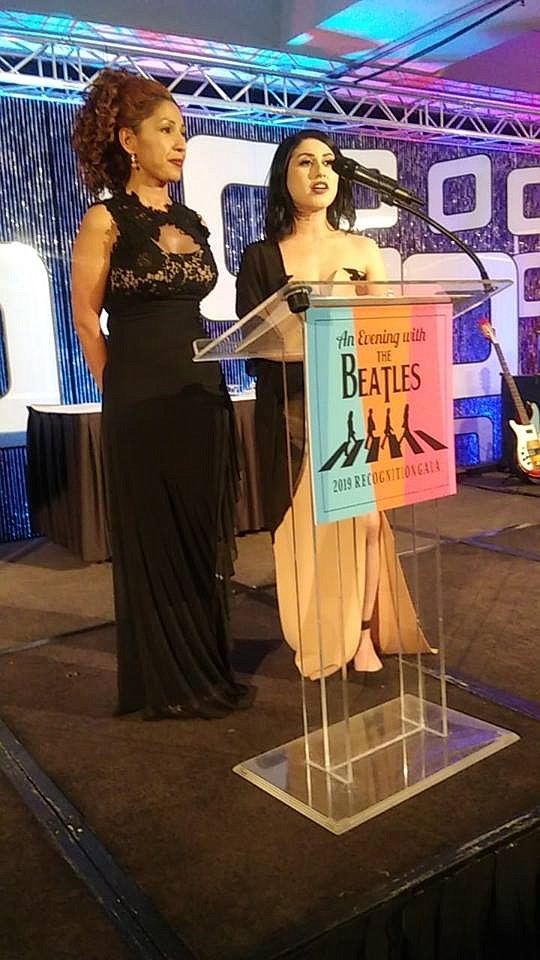 Greater Conejo Valley Chamber of Commerce held its 2019 Recognition Gala fundraiser Friday at the Hyatt Regency Westlake, with the theme "Come Together for an Evening with the Beatles."
Guests enjoyed Beatles-themed entertainment from 5-Star Theatricals, indulging in such photo opps as an old-fashioned-style London phone booth, while a Beatles tribute band impersonating the English rock group's earliest pop years tore through classic tunes "A Hard Day's Night," "Twist and Shout" and "Please Please Me."
Patrick Cassidy served at master of ceremonies for the evening.
Honorees for the evening included outgoing Chairman Chris Shaver of Thousand Oaks-based Shaver Automotive Group.
Los Angeles Rams and Mustang Marketing received the Business of the Year award, which was sponsored by Los Robles Health System.
California Lutheran University presented Corporate Sponsor of the Year to Express Employment Professionals, a.k.a. Express Pro, whose temporary workers serviced the Chamber's gala banquet at the Hyatt. Express Pro founders Bill and Janet McMillan, who could not attend in person, offered their appreciation via video while Express Pro executives Bernadette Gonzalez and Brenda Cornejo accepted the award on behalf of the temp agency, which his based in Westlake Village.
"I love the fact that this commmunity embraces things that have been around for a while and also the Rams brand new," said Mustang Marketing Co-Founder Scott Harris, who appeared with his business partner in Thousand Oaks-based marketing and public relations agency, Diane McKay. "We are so blessed to be a part of this community."
L.A.-based shopping mall developer Caruso sponsored the Man of the Year award. Caruso Senior Vice President of Community Relations Rick Lemmo presented the honor to Thousand Oaks Police Captain Tim Hagel, who led his force during a difficult November marred by the near-simultaneous Borderline bar shooting and Woolsey Fire.
Southern California Gas sponsored Woman of the Year, which was presented to Darlene Geekie of Veterinary Angels Medical Center; and Tracy Noonan, attorney for the city of Thousand Oaks.
Event sponsors included local business and divisions of Amgen, Logix and U.S. Bank.
"It's always such a joy to celebrate our three amazing cities, our united business communities and the honorees," Greater Conejo Chamber of Commece President Jill Lederer told the Business Journal on Monday. "This was the best gala in so many ways, from the phenomenal entertainment by Patrick Cassidy, Jack Cassidy and 5-Star Theatricals, to the record-level sponsorships, to the heartwarming speeches by the honorees. "On behalf of Chair Don Phillipson (and the Chamber's board and team), we thank everyone involved in this special evening."