Business Journalist Examines Region at Cal Lutheran Event
Thursday, March 7, 2019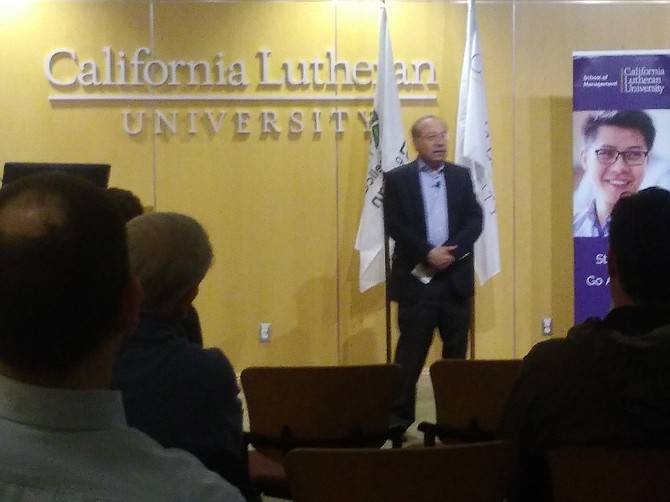 Henry Dubroff — the founder, editor and the entrepreneur behind Santa Barbara-based Pacific Coast Business Times — discussed the evolution of corporate culture in the region in a presentation Wednesday at Lundring Events Center, located on the California Lutheran University campus in Thousand Oaks.
In a lecture titled "Common Ground: How the Corporate Culture of the Central Coast Fosters Innovation," Dubroff recapped the niche opportunities and collaborations which he said continue to be business hallmarks of the Central Coast, consisting of Ventura, Santa Barbara and San Luis Obispo counties.
Dubroff brought up the longtime financial pillars of the tri-counties – Montecito Bank and Trust, Santa Barbara Bank and Trust; and San Luis Obispo's Mid-State Bank.
"For a long time, banking in the region relied on fixed, place-based lenders rooted in the community," Dubroff said, noting no Ventura-spawned bank.
He depicted the tri-counties as comprised of "lots of little fiefdoms" and said that the only time one turned on another was in a lawsuit filed by Ventura against Oxnard over a mall.
He said Ventura County became a latter-day designation as the city of Ventura, "a little tiny hamlet for a long time," used be a subset of Santa Barbara County. In fact, before the 101 freeway, Venturans could only access Santa Barbara via a riverbed.
"This was an unsustainable situation economically," Dubroff said of Ventura, circa 1879.
Soon after, an agricultural product from Lima, Peru, washed ashore, which was mispronounced "lima bean."
"The lima bean, turns out, can be grown here without water because the fog provides enough moisture and the Santa Ana winds can dry it," Dubroff said.
Oxnard growers took the lima bean to the Chicago Exposition, from where it grew into a cornerstone Midwest crop as other vegetables and fruit, such as strawberries, became important products locally. An industry took root, including such players as Henry Lewis (for whom Camarillo's Lewis Road is named) and, by 1893, the formation of Limoneira in Santa Paula by several farming families turned citrus and avocados into big commodities.
After the first wave — agriculture — came the industrial wave (1940s-1980s), which begot the defense industry and Amgen-led biotech, which has dominated eastern Ventura County since the 1990s.
The 2000s saw companies such as Teledyne Technologies emerge while software publishers seeded multi-million-dollar industries in the tri-counties.
Dubroff also noted each county's shortcomings.
"We can not outrun the economics of the region," he said. "It's a relatively slow-growth region."
With the changing generational tide seeing Millennials and younger people shun homeowning and communiting for renting and living where they work, he observed, "Ventura County was built as Baby Boomer heaven and it doesn't work anymore."
"I worry about Ventura County because it is heavily dependent on Amgen," Dubroff continued, wondering aloud if the reconfiguring pharmaceutical manufacturing landscape could pull the biotech rug from underneath Thousand Oaks' doorstep. "As mergers in biotech get bigger and bigger and bigger, you gotta attack or be eaten."
Dubroff's talk was one in a series of lectures under Cal Lu's Entreprenueral Speaker Series umbrella, sponsored by Hub101.