Report Cites SoCal Edison Wires as Cause of Thomas Fire
Thursday, March 14, 2019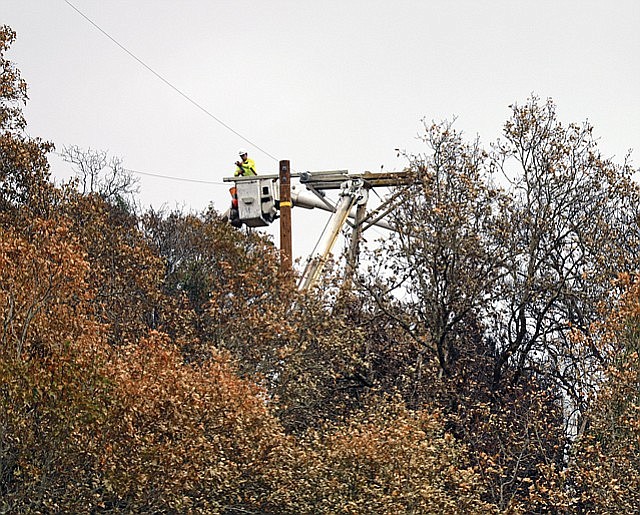 The Ventura County Fire Department on Wednesday issued a report saying that arcing of wires owned and operated by Southern California Edison caused the massive 2017 Thomas Fire in Ventura and Santa Barbara Counties that charred 282,000 acres, destroyed nearly 1,100 structures and killed two people.
SoCal Edison issued a statement disputing the report's findings.
According to the fire department report, strong winds on the evening of Dec. 4, 2017 caused two SoCal Edison lines to come into contact with each other, creating an electrical arc with sparks or molten material reaching combustible fuel on the ground and igniting the fire. The report called this phenomenon a "line slap."
The report did not determine whether Southern California Edison – a unit of Rosemead-based Edison International – was criminally liable for the blaze. That determination will likely come with other investigations of the fire.
But this finding will likely figure prominently in damage claims filed against SoCal Edison; last May, Fitch Ratings of New York laid out a worst-case scenario in which the utility could face more than $4 billion in damage claims from the fire. Scores of lawsuits have already been filed seeking damages.
With this finding, SoCal Edison could also be on the hook for damage claims from the January 2018 mudslides in Montecito that killed 21 people and destroyed 166 structures. The mudslides originated on slopes that were stripped of vegetation by the Thomas Fire five weeks earlier. Fitch Ratings did not include the mudslide damage in its financial liability assessment.
Last month, Edison International took a $1.8 billion charge against fourth quarter earnings in anticipation of damage claims resulting from the Thomas Fire and Montecito mudslides and last November's Woolsey Fire.
Southern California Edison issued a statement late on March 13:
"SCE believes evidence shows there were at least two separate ignitions on Dec. 4, 2017, that led to two fires that together are commonly referred to as the Thomas Fire — one in the Anlauf Canyon area of Ventura County and another near Koenigstein Road in the city of Santa Paula. Based on currently available information, SCE has not determined whether its equipment caused the ignition in the Anlauf Canyon area (referenced in the Ventura County Fire Department report). SCE has evidence that the ignition at Anlauf Canyon started at least 12 minutes prior to any issue involving SCE's system and at least 15 minutes prior to the start time indicated by VCFD in its report.
"SCE provided this evidence to Cal Fire and VCFD investigators; however, the report does not suggest this evidence was considered. SCE believes the Anlauf Canyon ignition may have been independently responsible for a significant portion of the Thomas Fire damages. SCE also is not aware of any basis for criminal liability."