AeroVironment Hardware on Mars Helicopter Completes Test Flight
Friday, March 29, 2019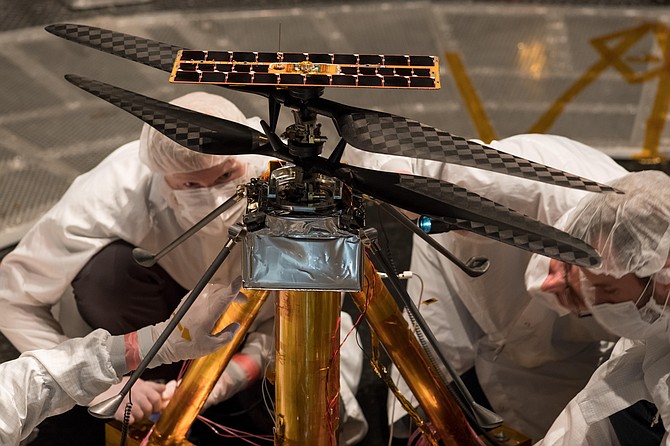 A helicopter bound for Mars completed test flights in a vacuum chamber at NASA Jet Propulsion Laboratory in La Cañada-Flintridge.
AeroVironment Inc., the Simi Valley unmanned aircraft developer, contributed to the space vehicle's airframe and major subsystems, including its rotor, rotor blades, hub and control mechanism hardware.
The helicopter will land on the red planet in February 2021, attached to the belly of the Mars 2020 rover. A few months later, it will be deployed and test flights up to 90 seconds long will begin.
The test flights done last month at JPL required the use of the Space Simulator, a 25-foot-wide vacuum chamber that sucks out all gases inside the mammoth cylinder and replaces it with carbon dioxide, the chief ingredient of Mars' atmosphere.
The helicopter test team also recreated the Mars atmosphere through use of a gravity offload system – a motorized lanyard attached to the top of the helicopter that simulates the equivalent to two-thirds of Earth's gravity.
Teddy Tzanetos, test conductor for the helicopter at JPL, said the gravity offload system worked perfectly.
"We only required a 2-inch hover to obtain all the data sets needed to confirm that our Mars helicopter flies autonomously as designed in a thin Mars-like atmosphere; there was no need to go higher," Tzanetos said in a statement. "It was a heck of a first flight."