Luncheon Celebrates Induction of Calabasas Mayor Shapiro
Thursday, May 16, 2019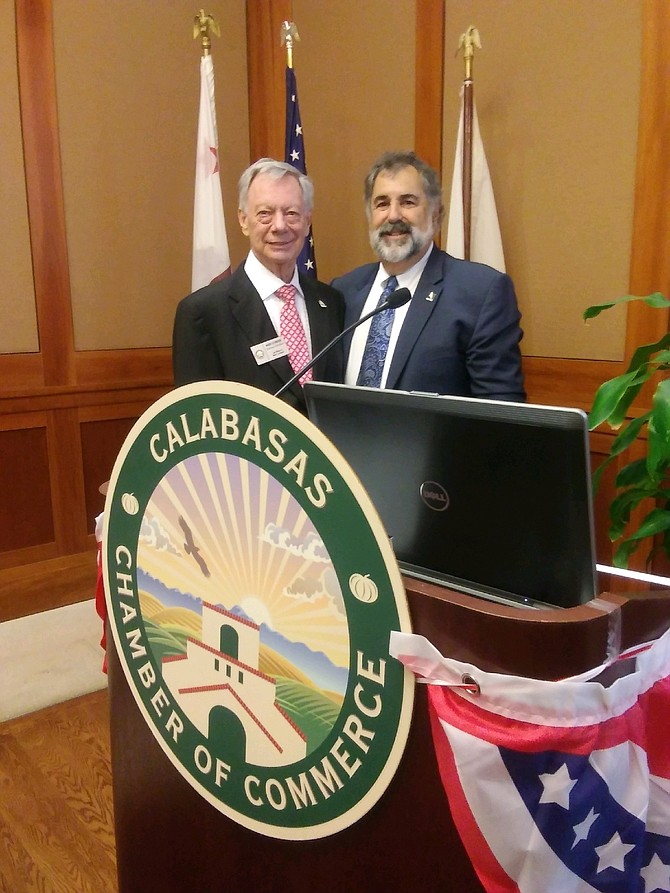 The city of Calabasas on Thursday celebrated the arrival of new mayor David Shapiro with its annual Mayoral Luncheon that doubled as a state of the city event.
About 100 people filled the Civic Center's Founders' Hall, including a who's who of Calabasas civic and business life such as Shapiro's city council colleagues including Mayor Pro Tem Alicia Weintraub, outgoing Mayor Fred Gaines and councilmember Mary Sue Maurer as well as such guests as development consultant Don Schmitz of Agoura Hills-based Schmitz & Associates, Southern California Edison Local Public Affairs officer Rudy Gonzales, and Calabasas' founding mayor Dennis Washburn.
Calabasas Chamber Chairman Mark Levinson served as the master of ceremonies, introducing longtime Calabasas resident Ross Porter to the podium. The sports announcer, who has lived in Calabasas for 38 years (a good decade before the community became incorporated as a city in 1991).
"Calabasas is the jewel of California," said Porter, who for 10 years worked as a local NBC sports anchor and for 20 seasons was a Los Angeles Dodgers color commentator. He complimented Shapiro for his civic authenticity.
"This mayor is not a politician," Porter said. "(He) keeps Calabasas safe, clean and wholesome. He has the residents' back."
After taking to the podium, Shapiro — standing before his wife Barbara, his daughter Samantha and one of his two sons, Alex — looked out into the "overpacked" room and said, "I thought everyone was here for a Kardashian pop-up," alluding to Calabasas' most famous celebrity family.
Shapiro, who was first elected to City Council in 2012 and whose mantra became "Shop Local," appeared particularly proud of such community achievements as Calabasas' ban of single-use plastic straws, stirrers and cutleries and a recent restoration of Las Virgenes Creek, where 1,000 native trees were planted.
Shapiro praised the local firefighters and law enforcement who worked in overdrive to remedy the fallout of November's Woolsey fire. In addition to highlighting Calabasas' civic achievements, upcoming commercial and environmental-related developments, new cultural events, and post-Woolsey takeaways, which will include a re-assessment of cellular wire service in the area and earthquake and emergency preparedness, the program paid tribute to Shapiro's longtime community involvement.
"This is a guy who knows personally so many people in the city," Gaines said of his longtime civic affairs colleague, "and he is always asking how do we live their best life in Calabasas."
Also on the Mayoral Luncheon's guest list: Caruso Board's Rachel Podor, Hilton Garden Inn General Manager Hector Ramos, West Hills Hospital and Medical Center President Mark Miller, Elanit Cohen of Belmont Village, Lovi's Delicatessen owner Alex Lovi, Justin Crane of Crane Financial Solutions and Jill Maine of the event's premier sponsor, Balance Treatment Center.