Retirement Facility Named for Mary Pickford
Wednesday, November 6, 2019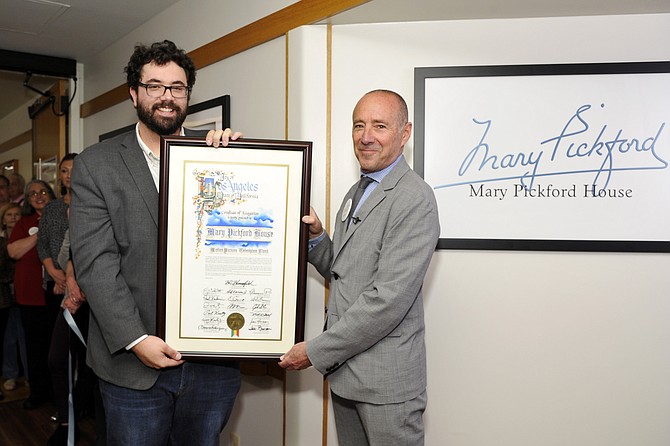 Residents, staff and community leaders gathered Wednesday for the dedication of Motion Picture & Television Fund's Mary Pickford House, located on the organization's Wasserman Campus in Woodland Hills.
The previously unnamed long-term care facility, with 25,000 square feet and 40 beds, was named for silent film actress Mary Pickford, who started a foundation along with Ed Stotsenberg to help those in the entertainment community with their retirement. The Pickford House is located inside the Clarence Brown Medical Pavilion, part of the larger campus.
Pauline Stotsenberg, daughter-in-law of the late foundation co-founder, helped unveil the center's new sign, along with Bob Beitcher, president and chief executive of the Motion Picture Fund, and Elaina Friedrichsen, director of archive and legacy for the Mary Pickford Foundation.
Jake Flynn, communication director for Los Angeles City Councilmember Bob Blumenfield, presented a framed certificate to Beitcher at the event.
"This is a hard industry to work in, and Mary knew that almost 100 years ago, and had the vision and tenacity to create the Motion Picture Relief Fund, which became the Motion Picture and Television Fund in the 1950s," said Beitcher. "Rumor has it that monies she had left over from raising Liberty Bonds during World War I were used to start the fund. In 1927 and years afterwards, the industry had someone to lean on, thanks to Mary Pickford."
With the organization's 100th anniversary in 2021, the team at the Motion Picture Fund is gearing up to expand its memory care unit, among other construction updates, Beitcher said. More information on these changes will be announced next year.