Lancaster Named L.A. County's Most Business-Friendly City
Friday, November 8, 2019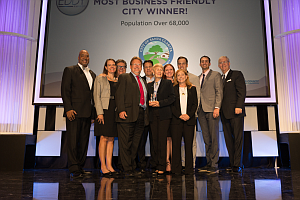 Lancaster was named the most business-friendly city by the Los Angeles County Economic Development Corp. (LAEDC) Thursday night at its annual Eddy Awards gala, dethroning Whittier. It is the third time Lancaster has been awarded the title, with other wins in 2007 and 2013.
A panel of judges chose Lancaster based its commitment to economic development, available business expansion and retention programs, low tax rates and high economic incentives.
"This year's Most Business-Friendly City awardees set a high bar for government leaders committed to helping employers create good jobs that help raise standards of living in their communities and across our region," said Bill Allen, chief executive of LAEDC, in a statement.
Lancaster has long been supportive of commercial, industrial and residential development, as evidenced by the buildup of Lancaster Boulevard, the city's busiest thoroughfare, with retail, hospitality and mixed-use projects over the last decade.
Also honored at the Eddy Awards, which drew a crowd of 600 to the JW Marriot at LA Live in downtown Los Angeles, were the city of La Mirada, which was recognized as most business-friendly for a city with a population less than 50,000; L.A. County Metro Chief Executive Phillip Washington, who was the individual honoree; Citi, which was the corporate honoree; and California State University – Dominguez Hills, which was the education honoree.