Galpin Displays at Auto Show
Wednesday, November 20, 2019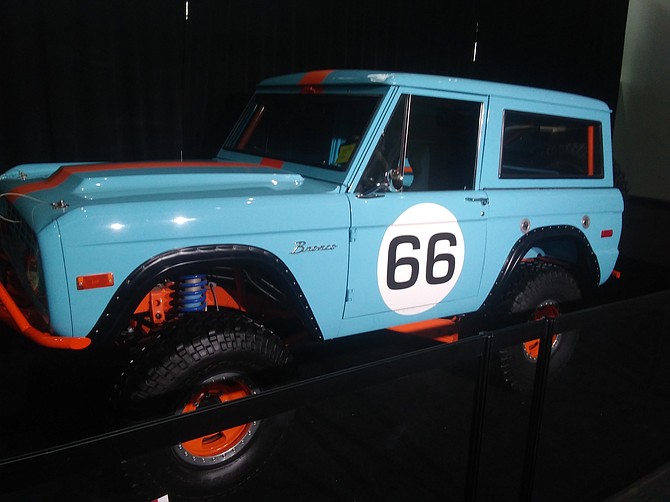 Galpin Auto Sports was among the exhibitors taking part in Automobility LA this week at the Los Angeles Convention Center, the conference of transportation professionals and news media that precedes the Los Angeles Auto Show.
Tommy Rezaie, general manager of Galpin Auto Sports in North Hills, said the customization shop has been taking over the concourse level of the convention center for the past five or six years to show its work. The shop is affiliated with the Galpin Motors group of dealerships.
Galpin Auto Sports modifies and upgrades vehicles, or Galpinizes them, to make them unique and match them to the style of the owners.
"Some people want more comfort. Some people want more power. Some people want better interiors," Rezaie said.
Among the cars on display were a 1966 Ford Gulf Bronco; a 1978 Ford F150 Ranger 4X4 customized by the shop; a Ford Ranger pickup with a customized paint job; an F150 Shelby pickup truck that is supercharged and decked out with all their goodies, and next to that a Shelby Super Snake Mustang.
"Once again, it's supercharged and decked out with all the Shelby offerings – body kit, wheels, tires, suspension and interior," Rezaie said of the Mustang.
From the dealership's Aston Martin collection, there was a DB11 that had been wrapped in a painting done by artist Rolland Berry.
"For James Bond it might be a bit too loud, but a lot of people like to stand out and be unique, and that is the car to do it in," Rezaie said.
The Los Angeles Auto Show runs from Nov. 22 to Dec. 1 at the Convention Center in downtown.