Conejo Chamber's Annual Taste Festival Draws 1,200
Monday, October 14, 2019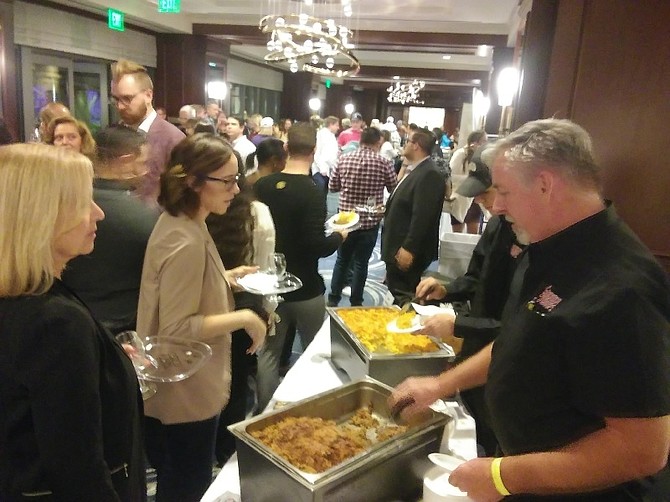 The Greater Conejo Valley Chamber of Commerce sold some 1,200 tickets for the 10th Annual Taste of Conejo event, held Friday at Four Seasons Hotel Westlake Village.
Epicureans sampled food, wine, beer and spirits from more than 60 local restaurants, breweries and wineries from Thousand Oaks, Westlake Village, Newbury Park, Moorpark, Agoura Hills and Simi Valley.
Upon entrance, guests were given plastic trays and wine glasses and greeted with martini tastings via an ice luge from Partysserie.
Deeper inside the venue, Currying Flavors, Shahed Hasan's modern Indian house in Agoura Hills, offered plates of chicken tikka masala, mango tofu Korma, mango salmon ceviche and mango pomegranate rice pudding.
For local proprietors such as Hasan, the event provides great exposure, he said.
"This is our first time participating in this event, as Currying Flavors has only been open for a month and a half," he told the Business Journal. "And since we're new, it's important for us to become involved in the community."
At the event, Agoura Hills confectioner Popped Fresh offered gourmet popcorn samples of such flavors as tuxedo, white cheddar, pumpkin pie and jalapeño ranch, while Celebrate Sweetly Gifting Co., Merley Greenidge's Thousand Oaks enterprise, doled out an assortment of baked goods. Stacked, an American cuisine restaurant in Thousand Oaks, provided pulled pork sliders, while Steve Bayle's Moorpark business, Smokin' Steve's Pit Barbecue Catering, served plates of pulled pork and macaroni and cheese.
Newcomer Social Monk Asian Kitchen at The Promenade at Westlake, a concept by Calabasas-based Cheesecake Factory, lined up take-out containers of kung pao chicken. Also new to the area, craft cocktail bar Oak & Iron, of Thousand Oaks, served a drink dubbed the Curious George.
Other newbies at the event this year included Made in Italy by Chef Antonio Sessa and 101 North Eatery & Bar at The Shoppes at Westlake.
The tasting event also saw a gaggle of familiar businesses at booths, including Barone's Pizzeria, Baja Fresh Westlake Village, Black Bart Navy Rum, Culter's Artisan Spirits, Hatch Café and Market, Jill's Gourmet Cotton Candy, Newberry Candy, Pitfire Artisan Pizza, Sunland Vintage Winery, 8th Devil Distributing and Zin Bistro Americana.