Motion Picture Television Fund Opens New Center
Thursday, September 26, 2019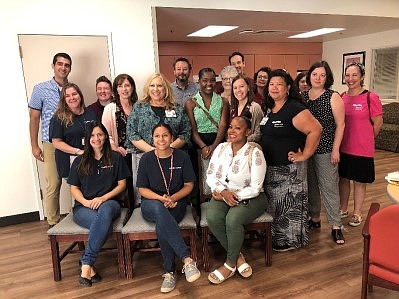 Woodland Hills' Motion Picture Television Fund, an organization dedicated to caring for aging members of the entertainment industry, welcomed the Wise Adult Day Services Center to its Wasserman Campus, according to a statement from the organizations Sept. 24.
The center is the result of a two-year collaboration between MPTF and Santa Monica-based Wise and Healthy Aging, a care-giving organization with a special focus on Alzheimer's patients.
Activities and services will be offered for up to 60 seniors, including dance, music therapy, socializing, games to boost memory, chair yoga and home-cooked meals.
"We are excited to bring this vital program to our Woodland Hills campus, and to join with Wise and Healthy Aging in offering expanded services to our entertainment community, our employee, and to older adults in the greater Woodland Hills community," Bob Beitcher, chief executive of the Motion Picture Television Fund, said in a statement.
"Our goal is to be a long-term resource for older adults, including caregivers of the elderly in the Valley, much like the WISE Adult Day Service Center in Santa Monica is for residents living on the Westside," added Grace Cheng Braun, chief executive of Wise, in a statement.
Wise and Healthy Aging currently serves more than 275 clients and associated caregivers in Los Angeles County.