Princess Ship Quarantined for Coronavirus Outbreak
Thursday, February 6, 2020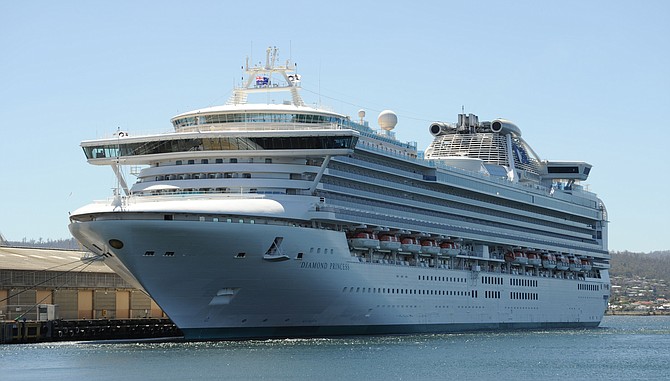 Princess Cruises has quarantined its Diamond Princess ship in the port of Yokohama, Japan, after Japanese officials found several guests tested positive for coronavirus.
So far, 20 individuals on board have been diagnosed since the quarantine began Monday night. They have all been removed from the ship by Japanese Coast Guard watercraft and taken to medical facilities for treatment.
All other guests are quarantined to their staterooms.
According to Santa Clarita-based Princess, crew members who have been cleared after a health screening are working on board and delivering food, beverages, toiletries and other supplies to guest rooms. When not working, they are staying in their cabins.
"Our crew are highly trained in safety and public health standards," said Princess public relations representative Negin Kamali in an email to the Business Journal. "While our routine sanitation protocols are robust, in an abundance of caution, we have increased our sanitation protocols on board … and have put together a series of protocols around food delivery, collection and cleaning."
The Diamond Princess returned early to Yokohama from a planned 14-day trip through Southeast Asia because an 80-year-old passenger from Hong Kong who had disembarked the voyage early tested positive for coronavirus. He sailed the first segment of the itinerary beginning Jan. 20, then deboarded on Jan. 25 in Hong Kong. On Feb. 1, he visited a Hong Kong hospital where he was diagnosed.
The cruise ship was met at the port Monday night by the Japanese Ministry of Health, which identified at least 273 guests who exhibited symptoms or were potentially exposed to the coronavirus through contact with the Hong Kong man. Ten people tested positive for it on Wednesday, and an additional 10 were diagnosed by midday Thursday. Test results are pending for around 170 additional guests. Officials continue to screen passengers.
The confirmed cases involved three U.S. passengers, two Australians, seven Japanese, two Canadians, one New Zealander, one Taiwanese, three Chinese and one Filipino crew member.
According to a statement from Princess, the quarantine will last at least 12 more days as required by the Japanese Ministry of Health. As a result, the next two Diamond Princess cruises scheduled to depart from Yokohama on Feb. 4 and Feb. 12 are cancelled. Guests for those cruises received full refunds and 100 percent credit for a future cruise of their choice.
During quarantine, the ship will go out to sea periodically to produce fresh water and perform routine ballast operations. It will return to the port to receive food, provisions and other supplies.
Princess Cruises confirmed there are 2,666 guests and 1,045 crew on board.
The Diamond Princess outbreak brings the number of coronavirus cases in Japan to 45, making it the highest total outside of mainland China, where more than 28,000 cases have been confirmed. The number of U.S. cases was 12 as of Thursday morning. The coronavirus has killed at least 565 people globally so far.