Pair of Flex Buildings in Burbank Sell for $16.5 Million
Tuesday, January 14, 2020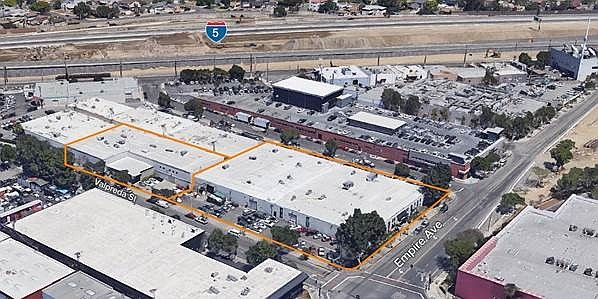 A pair of research-and-development flex buildings in Burbank have sold for $16.5 million.
The two buildings, totaling 67,377 square feet, are located at 1919 W. Empire Ave. and 1830 Valpreda St. Built in 1976 and 1984, the connected buildings have an extensive office build-out combined with open production area and high clearance warehouse and production space.
The facility lies in the heart of Burbank's media district on a tract totaling just over 2 acres with immediate access to the 5, 134 and 170 freeways.
Executive Vice Presidents David Young and Chad Gahr at NAI Capital's Encino office represented seller Rice LLC. The buyer was 4401 Wilshire L.P., a California limited partnership.
"Opportunities to purchase industrial property in Burbank's media district are limited due to extremely tight market conditions," Gahr said in a statement. "The location and proximity to numerous entertainment studios and affiliated media companies, including Disney Studios, Warner Bros, and Netflix was a strong selling feature of these buildings."

Added Young: "In this market we are seeing strong demand from the media and entertainment sectors to purchase or lease space for content creation, which is pushing pricing to new heights."

At the time of sale, the building was vacant. However, CoStar Group lists the most recent tenant of both buildings as Coloredge, which describes itself as a prominent "provider of visual marketing solutions for upscale brands and retailers," according to its website.
According to NAI Capital, the buyer plans on occupying the building with its media business.