E-commerce Company Takes Huge Space in Valencia
Wednesday, June 17, 2020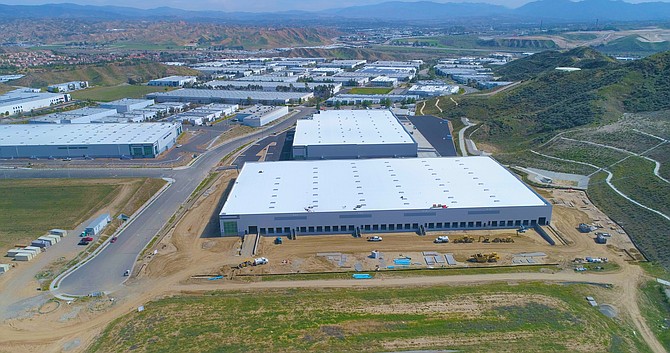 Newmark Knight Frank announced Wednesday that it has negotiated a huge industrial lease in Valencia to be used as a last-mile warehouse and distribution center for a major but unspecified e-commerce company. The site comes with a pair of large parking lots for warehouse employees and trucks.
Financial and lease length of the transaction remain private.
The lease is for a 155,680 square-foot building and a total of 23 acres for parking – very large by any measure. It is at 28820 Chase Place at IAC Commerce Center.
The facility also features 32 dock-high positions for direct truck loading, 30-foot ceilings, one ground-level loading door and heavy power.
NKF's Executive Managing Director John DeGrinis and Senior Managing Directors Jeff Abraham and Patrick DuRoss represented landlord IAC Properties.
The tenant was represented by an outside firm.

"E-commerce continues to be a major driver of economic activity, as consumers shift more purchases online," DeGrinis said in a statement. "IAC's strategic location within the submarket and unmatched dock high loading provides excellent access to those consumers. The tenant was also looking for adjacent land to accommodate a high parking requirement, which can be nearly impossible to find elsewhere in infill Los Angeles."
Added DuRoss, "These last-mile distribution centers are a critical component to the e-commerce machine with consumers demanding shorter delivery times for their online purchases. Additionally, we are excited to see the many jobs this will bring for the surrounding area."

"IAC Commerce Center continues to support job growth in the Santa Clarita Valley," said Holly Schroeder, president and chief executive of Santa Clarita Valley Economic Development Corp. "Our proximity to Los Angeles makes it ideal for e-commerce, which is a major growth sector in the economy right now. We welcome the jobs and services the new tenant will provide."
IAC Commerce Center, which covers 116 acres, will soon include seven industrial buildings in total and cover approximately 1 million square feet. The Santa Clarita Valley's business-friendly incentives have made this area a favorite for large-volume businesses such as e-commerce.
The deal is larger than last month's revelation that Amazon.com Inc. would be leasing out more than 97,000 square feet of last-mile distribution space nearby at the Center at Needham Ranch, a business park off of Highway 14 developed and managed by Trammell Crowe and Clarion Partners with CBRE acting as leasing agency. Also, late last year, entertainment service company Illumination Dynamics became the Center's first tenant, signing on for 67,600 square feet at 21335 Needham Ranch Parkway. In January of last year, Santa Clarita Studios singed on for a 109,370-square-foot warehouse at Valencia Industrial Center, which came with 24-foot minimum clear height and 245 parking spaces at the 28210 Avenue Stanford site.
In a conversation with the Business Journal, DeGrinis added that the industrial sector remains hot in the region and that he and his team of realtors are currently sewing up several more deals to be announced in the weeks ahead.
"We're very busy right now," DeGrinis said. "Activity has been very good, especially in light of the anticipated slowdown people were expecting."