Farmers Insurance Sponsors APGA Golfers
Wednesday, June 24, 2020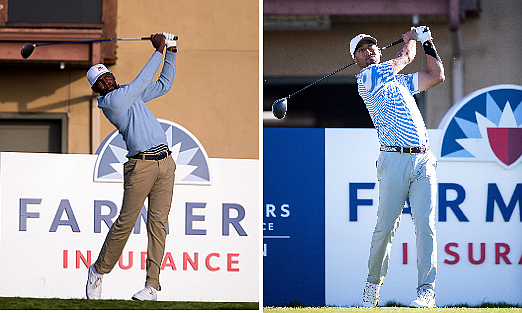 Farmer's Insurance in Woodland Hills will sponsor golfers Willie Mack III and Kamaiu Johnson in the 2020 Advocates Professional Golf Association Tour.
The tour is a nonprofit established in 2010 to bring greater diversity to the game of golf. It organizes and hosts tournaments, player development programs and mentorships for young golfers of color.
Willie Mack III is the APGA Tour Lexus Cup Player of the Year for 2019. He finished in the money in six of the seven APGA Tour 2019 tournaments. Kamaiu Johnson is one of Florida's most promising young golfers, having been selected as Florida PGA's 2017-2018 player of the year.
APGA Chief Executive Ken Bentley said in a statement financial challenges are among the greatest obstacles preventing some golfers from making it to the Professional Golfers' Association Tour.
Added Willie Mack III in a statement: "The financial support and most of all the belief (Farmers has) given me will go a long way to helping me achieve my goal of reaching the PGA Tour."
Farmers Insurance has a record of involvement in professional golf. The company hosts the Farmers Insurance Open at Torrey Pines South Course in La Jolla, an annual stop along the PGA Tour. Farmers is committed as the title sponsor of this event through 2026.
In January, Farmers hosted an AGPA Tour tournament at the Farmers Insurance Open, marking the first time an APGA event was directly connected to the PGA Tour. The 27-hole APGA Tour tournament was held on Torrey Pines North Course during the third round of the Farmers Insurance Open.
"As an organization that celebrates diversity and inclusion, we were proud to … help the APGA Tour further its mission of inclusivity in the game of golf," said Farmers Chief Executive Jeff Dailey in a statement. "We're happy to continue our support of the APGA Tour by sponsoring two of their exciting players, Willie and Kamaiu, hopefully enabling them to focus on doing what they do best — competing."