Sun Valley Mixed-Use Project With 432 Units
Wednesday, September 2, 2020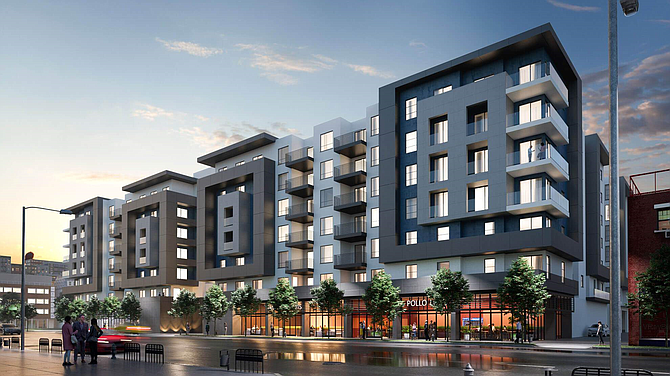 The city of Los Angeles has approved Lankershim Crossing — a mixed-use project to be built by a joint venture of Summerland Partners and Hankey Investment Co. that will put 432 dwellings on a nearly 4.5-acre site in Sun Valley.
An environmental report has shed light on new details on the project at the southeast corner of Lankershim Boulevard and Strathern Avenue.
According to the project's Sustainable Communities Environmental Assessment filed with Los Angeles Department of City Planning, Lankershim Crossing, which is located at 7918-7946 N. Lankershim Blvd. and 11650-11664 W. Strathern St., will rise seven stories and encompass approximately 678,328 square feet.
The 432 apartments will include 72 one-bedroom units, 180 two-bedroom units, and 180 three-bedroom units while a total of 11 percent of the proposed dwellings (48 units) would be designated as restricted affordable housing.
These units will be built above a ground-floor level of commercial storefronts spanning 22,000 square feet, plus garage. The project will also allow for 109 commercial parking spaces and 224 bicycle spaces.

Architect Kamran Tabrizi is designing the boxy, contemporary podium-style low-rise tower, which amenities will include pool and spa, community room and playground.
A couple of existing edifices at the site will be razed to allow for the construction. Those buildings include a single-story commercial building and a one-floor office building, plus associated surface parking and storage areas.
The developers have also requested several entitlements, including a zone change and master conditional-use permit for on-site alcohol sales.
According to the project's environmental study, the creation of Lankershim Crossing will take 36 months once construction starts.
The team of Hankey and Summerland Partners with architect Tabrizi is no stranger to North Hollywood, where they also created the recently completed Art Set NoHo apartments at 11525 W. Chandler Blvd.
While not as robust in the residential arena as its less-industrial neighbor North Hollywood, Sun Valley has seen some dwellings proposed recently in its parameters, including 71 apartments near Glenoaks Boulevard and Wheatland Avenue that will span more than 100,000 square feet; and a five-story, 108-unit complex at 7401 Lankershim Blvd., to be developed by Shlomi Asiss, that just gained approval in late 2019.