GeoLinks has been awarded $87.8 million from the Federal Communications Commission to bring broadband service to rural areas in California and Nevada.
Serviz, an on-demand provider of home repair services, has been acquired by competitor Porch, the companies announced.
Engineering and testing company National Technical Systems Inc. is relocating all its corporate functions to a new facility in Anaheim, vacating its office in the west San Fernando Valley.
Private equity firm Providence Strategic Growth has acquired a majority stake of ExakTime Inc., an employee attendance tracking software maker for the construction industry.
Four community colleges in the San Fernando Valley will offer a cloud computing certificate program through a partnership with Amazon.com Inc.'s Amazon Web Services.
InVia Robotics announced on Thursday it received $20 million in a Series B funding round, bringing its total funding to about $29 million.
Glendale online legal technology company LegalZoom.com Inc. on July 31 announced that it completed a $500 million financing round from four investors, its second since the firm's founding in 2001. With this investment, LegalZoom's estimated value totals $2 billion.
Virgin Galactic and affiliated manufacturing firm Spaceship Co. announced Friday signing an agreement with two Italian companies to bring spaceflights to the European country.
Airborne Wireless Network thinks commercial planes with antennae could provide broadband to isolated users.
AeroVironment Inc. is developing a helicopter drone that will fly on Mars.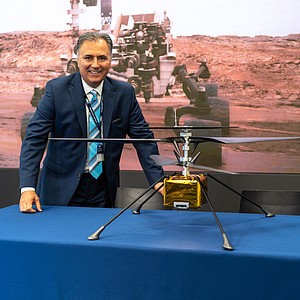 Blackline Inc. in Woodland Hills has announced the appointment of an executive to oversee the company's expansion into the Asia-Pacific region.
The company formerly known as Compulink Business Systems Inc. in Newbury Park has changed its name to Compulink Healthcare Solutions in an effort to rebrand itself as a provider of software solutions for the medical industry, the company announced Wednesday.
Simulations Plus Inc. has named Shawn O'Connor as its new chief executive officer.
AeroVironment Inc. beat Wall Street estimates on earnings and revenue for the fourth quarter.
DataDirect Networks Inc. has acquired the Lustre File System business and related assets from Intel Corp., the companies announced.