Charles Crumpley
Publisher & Editor
Charles weighs in each week with his opinion - his "Comment" - about local business. While he pats the heads of those who make prescient or brave decisions, he's not afraid to kick the shins of businesses that make dunderheaded moves or governments that interfere with free markets. It can be newsy, it can be opinionated, or it can be funny, but the Comment column is always about business in Los Angeles County.
Charles Crumpley has been a reporter, writer or editor for 30 years, mostly with daily newspapers. He was born and raised in Kansas City, MO, and worked for years for the Kansas City Star, mainly as a senior financial writer. He was the editor of the business news section for two daily newspapers, including the New Orleans Times-Picayune. He has won four national journalism awards and studied Japanese banking and business practices in Tokyo as a senior Fulbright scholar. He has been editor of the Los Angeles Business Journal since January 2006.
He can be reached at (323) 549-5225, ext. 208, or by email: ccrumpley@labusinessjournal.com.
Recent Stories
More than 500 military veterans were expected to participate Thursday in the Valley Economic Alliance's annual Hero Hired Veteran Job and Resource Fair at Los Angeles Valley College in Valley Glen.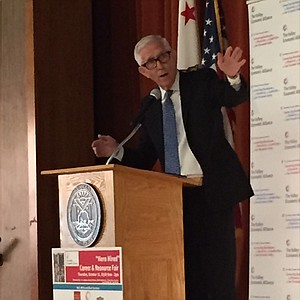 It's dispiriting to see business improvement districts attacked by an academic group in league with a homeless advocate.
The winner of the prestigious Fernando Award won't be the only one honored at the black-tie ceremony on Oct. 6.
California's manufacturers are still on the ropes. Yet the legislature seems intent on delivering the knockout smackeroo.
Think of the record of management by the city of Los Angeles.
True or false?: The business community in the San Fernando Valley supports the city's idea to house the homeless temporarily in specified areas in each council district.
The homelessness problem locally ranks as a 10 on a scale of 1 to 10, and the business community in the San Fernando Valley strongly supports the city's proposal to put temporary homeless shelters in in each council district.
You may have seen recent news accounts about how home sales have slowed nationwide.
What do business leaders think is the worst single thing about living and doing business in the Valley area?
I wasn't surprised by last week's announcement that the Sears store in the Janss Marketplace in Thousand Oaks will soon close.