Pegi Matsuda
Publisher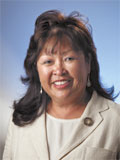 Pegi Matsuda joined the San Fernando Valley Business Journal in 1999 as associate publisher and was promoted to publisher and president in 2001.  Prior to joining the Business Journal, she spent 20 years in southern California corporations including GTE Telephone Operations and Sempra Energy.  During this time, she held numerous leadership positions in sales and marketing, advertising, market planning, customer operations, market research, public and community affairs, new product development and strategic planning.   
She is a Valley business advocate and serves as a board member for VICA, the VEDC, Valley Presbyterian Hospital and she is also a member of the board of trustees for Woodbury University.
Pegi holds an M.A. degree in organizational leadership from Woodbury University and a B.S. degree in human relations and organizational behavior from the University of San Francisco. 
Recent Stories
lending: Organization aims to help some 300 business owners get funds.
LOAN: Microloan program targets underserved Hispanic business owners.