WORKPLACE: IF POLICY IS SPELLED OUT, EMPLOYEES SHOULD NOT EXPECT CONFIDENTIALITY.
Court's E-Mail Ruling on Privacy Good for Companies
Monday, April 25, 2011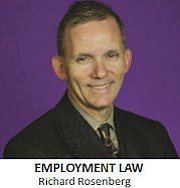 Although privacy is on everyone's minds these days, there are only a handful of California court cases which set out the rules businesses must follow in protecting and honoring employee privacy. A recent ruling by the California Court of Appeals in Holmes v. Petrovich Development Company, LLC clarifies that employees do not have enforceable privacy rights when using company e-mail systems if the employer has a technology use policy that permits employer inspection of company e-mail.
Petrovich Development Company hired Gina Holmes as an executive assistant to the company's principal, Paul Petrovich. Upon her hire, Holmes read and signed the company's employee handbook, which contained its technology use policy. The policy stated that the company's technology resources should be used only for company business and prohibited employees from sending or receiving personal e-mails. It warned that "employees who use the company's Technology Resources to create or maintain personal information or messages have no right to privacy with respect to that information or message."
The handbook also contained an Internet- and intranet-usage policy which further enunciated that "e-mail is not private communication, because others may be able to read or access the message." The company reserved the right to "inspect all files or messages . . . at any time for any reason at its discretion."

One month into her employment, Holmes revealed to Petrovich that she was pregnant and would be taking maternity leave. Petrovich and Holmes exchanged a series of e-mails, in which Petrovich (inappropriately) told Holmes that her maternity leave left the company in a lurch, and that she should have disclosed her pregnancy when she interviewed for the position. In response, Holmes explained that she had twice miscarried, was concerned about complications due to her age, and was thus reluctant to disclose her pregnancy in its early stages.
Without Holmes' knowledge, Petrovich forwarded their e-mail exchange, including Holmes' personal revelations, to other company employees, including its in-house counsel.

When Holmes learned that Petrovich had distributed their emails, she e-mailed an attorney friend for a referral to an employment law attorney specializing in pregnancy discrimination. The e-mail was sent by Holmes on her office computer using the company's e-mail system.
Holmes later wrote an e-mail to her lawyer stating that Petrovich had made her feel like an "outcast" by turning their personal e-mails into "common reading material for employees," but said that she "didn't want to quit [her] job" and wanted to "make the situation better."
Holmes arranged a meeting with her attorney for the following day. According to the e-mail exchanges, the attorney encouraged Holmes to delete their e-mail messages because the company might claim a right to access them. Hours after their meeting, Holmes resigned, stating to her employer that Petrovich's comments "leave [her] no alternative but to end [her] employment here."

Holmes later sued the company (and Petrovich personally) for sexual harassment, retaliation, wrongful termination, violation of the right to privacy, and intentional infliction of emotional distress.
Company defense
After Holmes left, the company reviewed all of Holmes' e-mails which she sent on the company e-mail system. As part of its defense, the company wanted to use some of the e-mail exchanges between Holmes and her lawyer (on the company e-mail system) to show that Holmes hadn't really suffered any emotional distress and was goaded by her attorney to file the lawsuit. Holmes asked the court to deny access to her private e-mail believing that the communications with her lawyer were "private" and protected from disclosure by the attorney-client privilege. The trial Court sided with the employer on the e-mail access issues and then dismissed the lawsuit for lack of merit.
On appeal, the appellate panel was asked to decide whether Holmes had a reasonable expectation of privacy in the e-mail communications on the company system. If so, then she had every right to block disclosure of the embarrassing e-mail. If not, then the company could review the communication and use it in its defense.
The appellate panel ruled for the company on the e-mail issue, finding that e-mails on the company e-mail system are not confidential where the employee knows and agrees that the e-mail system is not private, may be monitored, and is supposed to be used for business purposes only.

The Court reasoned that an electronic communication is not confidential, and cannot be privileged when the following three factors are present: (1) the electronic means used belongs to the employer; (2) the employer has specifically advised the employee that communications using the employer's electronic means are not private, may be monitored, and may be used only for business purposes; and (3) the employee is aware of and agrees to these conditions prior to using the email system.

By agreeing to the company's technology policy, the Court found, Holmes had waived any expectation of privacy and consented to disclosure of her communications made via the company e-mail. The Court likened Holmes' use of the company's e-mail system for this purpose to "consulting her attorney in one of defendants' conference rooms, in a loud voice, with the doors open, yet unreasonably expecting that the conversation overheard by Petrovich would be privileged."
Other e-mail accounts
In rendering its ruling, the court distinguished this case from the situation where an employee is accessing a personal e-mail account (like yahoo or g mail) via the Internet on company computers or smart phones. Since that set of facts was not before the court, the appellate panel declined to offer guidance on how it might rule in such a case. Nor did the court say what might happen if, as in this case, the employee agreed to an employer policy that clearly cover those communications.
Holmes also argued that despite the policy, she had an enforceable expectation of privacy in the e-mail because her e-mail account was password protected and her employer never actually monitored employee e-mail. The court found these arguments unpersuasive. The panel said that the "operational reality" that an employer does not monitor e-mail does not restore a reasonable expectation of privacy where the employer's policy expressly disclaims such privacy rights. The court likened this argument by Holmes to that of the driver who claims she can exceed a posted speed limit on a lonely public roadway simply because the roadway is seldom patrolled.
The Holmes case goes a long way to confirm the respective rights and responsibilities of employers and employees when using employer technology systems. It also demonstrates the value of a well worded technology use policy. Where the employer policy clearly states that company e-mail is not private, may not be used for personal matters, and is subject to monitoring and inspection, employees do not have a legally protected expectation of privacy. This will be the case, even in circumstances where the employer does not regularly monitor e-mail.
Richard S. Rosenberg is a founding partner of Ballard Rosenberg Golper & Savitt LLP, a management side labor law firm in Glendale. Rosenberg was selected as one of the 25 best lawyers in the San Fernando Valley. He may be reached at (818) 508-3700 or rrosenberg@brgslaw.com.