MANAGEMENT: PAY GAP ALSO A PROBLEM AT LOCAL NON-PROFITS.
Female Executives Playing Catch Up
Monday, June 24, 2013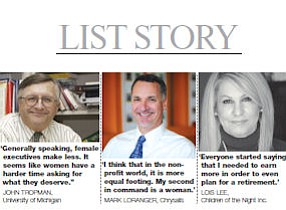 There are top female executives in the greater San Fernando Valley but mostly they are in the traditionally lower paying non-profit sector – and for that they are paying a price.
Locally, only two of the top 50 publicly traded companies in the region are headed by a female executive, while fully 48 percent of the top executives on this year's list of the largest non-profits in the greater San Fernando Valley are women...
Are you a current Member? Sign In