PROFITABLE: CROWN MEDIA, CHEROKEE RANK HIGHEST ON RETURN-ON-EQUITY LIST.
Lean Firms Go Toe-to-Toe with Corporate Giants
Monday, March 18, 2013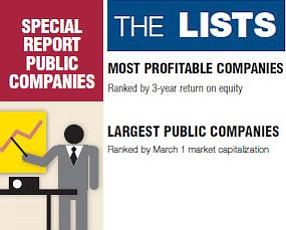 Size matters, but not when it comes to profitability.
The top performers on the Business Journal's annual list of the most profitable companies are not the greater Valley region's largest corporate giants, but relatively smaller companies with streamlined business models that have been honed over time...
Are you a current Member? Sign In