HOSPITALITY: TRENDY MAKEOVERS CONTINUE AT VALLEY-AREA LODGINGS.
Corporate Hotels Loosen Up, Go Boutique
Monday, May 13, 2013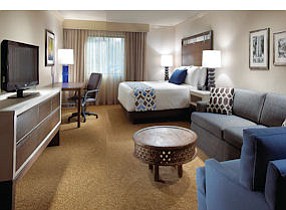 "We replaced it all, piece by piece," Selvin said. "This is a totally different experience than a chain."
Still, for all their trendiness, boutique hotels do not necessarily have a built-in advantage over corporate lodges, which offer incentives and a predictability some weary travelers love.
"Everyone is brand loyal," said Jeff Lugosi, senior vice-president at PKF Consulting in Los Angeles. "Business travelers get points, which make corporate hotels more attractive to them."
Chain hotels own all the top 10 spots on the Business Journal's list.
The Marriott Burbank Airport Hotel, flagged by Marriott International Inc. of Bethesda, Md., ranks No. 1 on the list and has been in the top two slots for more than 10 years. The hotel, owned by New York real estate investment management company Westbrook Partners, has 488 rooms, a cocktail lounge, two pools, a hot tub, a fitness center and 1,200 parking spaces. In addition, there are Daily Grill and Starbucks outlets on site.
General Manager Richard Sandoval said a hotel like the Marriot is designed for a different customer than a boutique hotel. They feature corporate meeting spaces that boutiques lack but are often required by business travelers, a demographic his hotel is focused on.
"The depths of offerings here can't really be matched by a boutique," he said. "We also have the tremendous advantage of household recognition."
Despite that, Lugosi said the boutique market is showing resilience, though that varies by location.
"It's always been market by market," he said.
---
Download the 2013 VALLEY'S LARGEST HOTELS list (pdf)
Prev Next