Apollo F-1 Engine Moves to Chatsworth
Thursday, October 3, 2013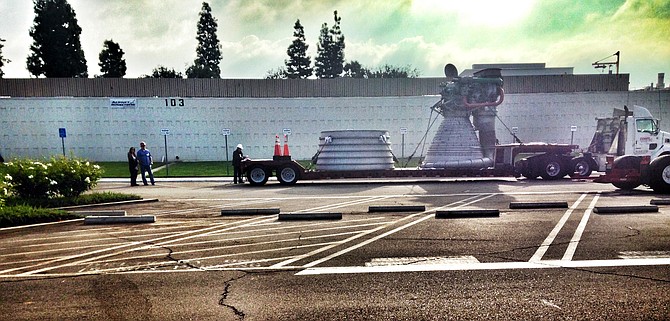 A mock-up of the engine that helped take humans to the moon was installed on Thursday outside the Aerojet Rocketdyne campus on DeSoto Avenue in Chatsworth after standing for decades along Canoga Avenue.
The 18,400-pound, 19-foot tall F-1 engine was transported by truck in two pieces and placed on a pedestal at the rocket engine maker's main production plant. The demonstration engine had been in place since 1979 outside the Rocketdyne facility in Canoga Park.
Rocketdyne is consolidating its operations into the Chatsworth location with plans to develop the Canoga Park site into a commercial and retail site.
While the F-1 is a legacy engine for Rocketdyne it remains a key part of the company's offerings to the nation's space program, said Brian Lariviere, program manager for the F-1 Advanced Booster Risk Reduction program.
"We are continually improving the engine to meet NASA's space exploration needs," Lariviere said.
The F-1 was developed by Rocketdyne in the late 1950s for the U.S. Air Force. For the Apollo program to put humans on the moon, five F-1 engines were used on the first stage of the Saturn V rocket. The F- 1 was the most powerful single-chamber liquid-fueled rocket engine ever developed
"This heritage engine was handcrafted by engineers and scientists," Lariviere said.
Aerojet Rocketdyne has modified the F-1 as an option for NASA as a booster engine for the Space Launch System, the space agency's heavy-launch rocket now under development. If chosen, the F-1 booster wouldn't be used for a launch until 2020 the earliest, Lariviere said.