RETAIL: UPSCALE GROCER TEAMS WITH LOCAL DEVELOPER ON MIXED-USE PLAN.
Whole Foods Takes Second Bite at Burbank Market
Monday, September 2, 2013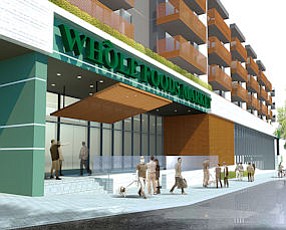 Whole Foods Market Inc. is taking a second crack at entering the city of Burbank. And while the upscale grocer will likely face some opposition, this may be its best chance yet.
The Austin, Texas company has proposed opening a 43,000 square-foot market in a mixed-use apartment development planned for the city's busy Media District.
The store is much smaller than the 60,000 square-foot store Whole Foods proposed in 2007 for the city's equestrian district, a plan shot down due to traffic concerns.
What's more, this time Whole Foods has teamed up with longtime Burbank developer Cusumano Real Estate Group. The grocer would anchor the developer's $150 million Talaria at Burbank, a 241-unit project at 3401 W. Olive Ave.
"We really feel that this site with the storefront on Olive provides a readily accessible store without impacting residential neighborhoods," said Erica Hartig Dubreuil, regional vice president for Whole Foods. "This location is much better suited."
The 3.8-acre site is in the center of the Media District, with Warner Music Group directly across the street. Not far away are Burbank Studios (formerly NBC Studios), Warner Bros. Studio and the headquarters of Walt Disney Co.
However, the property was the site of a development battle prior to the housing bust.
Developer Platt Cos. spent about five years trying to build a much larger mixed-use project that it was forced to scale down in 2005. The drawn-out fight put the company out of business, and the property was acquired out of bankruptcy by Fortress Investment Group LLC, a New York investment firm. It was sold to Cusumano as part of a nine property portfolio in 2008 for an undisclosed sum.
Michael Cusumano, managing partner of Cusumano, said that the company could have pursued the revised Platt proposal but decided to reach out to Whole Foods and design a project that would fit into an area filled with young professionals.
"When we bought the land, it was completely entitled for the Platt Project. But quite frankly, it just wasn't the right project for the site," he said. "With this demographic, Whole Foods is the first grocer that came to mind."
The battle
Whole Foods also has rethought its plans for Burbank.
Six years ago, the grocer proposed a regional store in the Rancho District at 901 W. Alameda Ave. But local residents fought the project, arguing it would cause too much traffic in an equestrian area. The unrelenting opposition prompted the City Council to reject the plan by a vote of 3-2. In the same council meeting, the city voted to direct its staff to help Whole Foods find a more fitting location.
"Most of the people who opposed Whole Foods before said they wanted it, just not in that area," said Community Development Director Joy Forbes.
Hartig Dubreuil said the newly proposed Whole Foods is smaller and consistent with a typical store. It would have the usual offerings, including groceries, a full service bakery, coffee shop and juice bar. It may also feature local craft beers to appeal to the local office workers.
"It would really just be a collection of our favorites," she said. "We do expect an increase business for lunch."
The Olive Avenue property is now the site of several small multifamily buildings, office space, a church and Dimples, a karaoke bar that opened in 1982 – all of which are on leases with Cusumano.
The Talaria proposal calls for 84 one-bedroom, 123 two-bedroom and 33 three-bedroom units in a five-story, 385,000 square-foot project. That's about 30 percent smaller than Platt's last proposal, which totaled 500,000 square-feet and included two eight-story condo buildings.
Talaria would feature two open courtyards, a lap pool, outdoor barbecue area, private lounge, fitness center, laundry and dry-cleaning pickup service, on-site ATM and free high-speed Internet in certain common areas of the development.
Cusumano said Talaria is designed to attract tenants that work in the nearby entertainment industry.
"We looked at the demographic that sits within walking distance of the site," he said. "With all the entertainment jobs, if we could target those employees as some of our tenants, we could reduce traffic even more."
He said that if the project comes before the City Council in January, and is approved, the development could break ground by summer and be open for business in fall 2016.
Approval process
Forbes said the project could go to the Council for consideration early next year but must first go through community meetings and environmental studies. She noted that at a first community meeting on Aug. 19 concerns were raised about traffic.
"The public has very mixed feelings about this project," she said. "But we're definitely going to push the process forward. There are things about it that make us say 'Wow, we want this in Burbank.'"
Mayor Emily Gabel-Luddy stressed that traffic studies will be important in determining the project's future.
"The big question on this project, as good as it looks right now, is what we will find out through the studies," she said.
Cusumano, who attended the community meeting, said he plans to remain accessible to city residents throughout the process. He noted he lives in the city and his father, Chuck Cusumano, and uncle, Roger Cusumano, founded the firm in 1959. Today, he runs it with his brother Charles Cusumano.
"We have built a lot of projects in this community," he said. "We're a known quantity. We can't do something that is going to have a negative impact. We just wouldn't do it."
Jay Geisenheimer, who has lived in the Rancho District for 13 years, opposed the first Whole Foods proposal but so far likes what she sees in the Media District.
"There are always the usual concerns, like traffic and parking, but if they address that, then this is a great project," she said. "I think it's beautiful and well thought out. Whole Foods made a good connection when they connected with Michael Cusumano."
Sal Ferraro, owner of Dimples, which claims to be the first karaoke bar opened in the country, said he is already looking for other locations in Burbank and Toluca Lake to open if the project gets approved.
"Cusumano is a big man in this town," he said. "I have known they were going to build here for years."