THE DIGITAL REVOLUTION IS RADICALLY CHANGING THE PRATICE OF LAW, AS PAPERWORK GIVES WAY TO ONLINE FILINGS, VIDEO DEPOSITIONS AND SOCIAL MEDIA.
Bar Code
Monday, February 24, 2014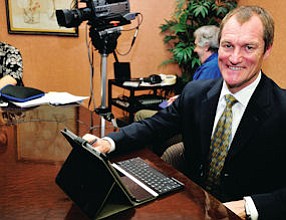 or the first time in his career, attorney Adam Grant argued a case in court three years ago without using a single piece of paper.
Grant, a partner at business litigation firm Alpert Barr & Grant in Encino, said the case lasted 14 weeks, involved 300 hundred exhibits, 10,000 document pages and 10 depositions...
Are you a current Member? Sign In