SUN VALLEY FIRM MAKES SPLASH AT OLYMPICS WITH SPECTACULAR FOUNTAIN.
WET Design Runs Rings Around Rivals
Monday, February 24, 2014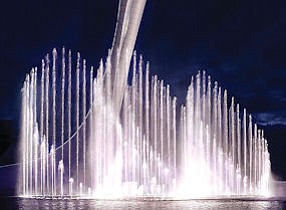 It's not often that a local company has the opportunity to entertain the masses on the world's biggest sports stage with a product made entirely in the Valley.
But that's exactly what happened when WET Design, a Sun Valley design firm perhaps best known for the Fountains of Bellagio at the hotel in Las Vegas, created a piece for the Sochi Olympics...
Are you a current Member? Sign In