Business Journal's Trusted Advisors Awards Recognizes Professionals
Thursday, August 9, 2018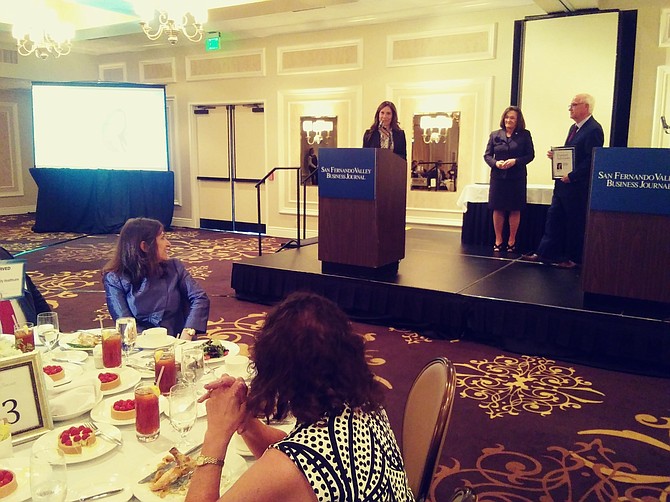 Attorneys, business bankers, accountants, insurance professionals and wealth managers filled the Garland Hotel's banquet room Thursday as San Fernando Valley Business Journal held its 8th Annual Trusted Advisors Awards ceremony and lunch.
Editor and Publisher Charles Crumpley welcomed 100 professionals to the North Hollywood venue.
"This event helps to recognize the importance of the relationships they have developed with their clients as they guide them through this complex business environment," Crumpley said in his opening remarks. "Everyone understands that in these industries, professionals have to help their clients comply with rules and regulations. But it is those rare individuals who do that but also combine market knowledge with superior service to help their clients thrive and achieve. And many of them go way above and make significant contributions to our community."
The winners in the accountant category were Sasha Baluka of B&G Accounting Services for the Client Service Excellence Award; Laura Azzalina Rigali of illuminate for the Trailblazer Award; and Darryl Gross of gish SEIDEN for the Innovation Leadership Award.
In the attorney category, Barry Kurtz of Lewitt Hackman took home the Client Service Excellence Award; Jonathan Fraser Light of LightGabler won the Innovation Leadership Award; and Terri Hilliard of Terri Hilliard PC was honored with the Trailblazer Award.
Accepting her Trailblazer Award for the second year in a row, Hilliard said, "I'm shocked. It's rare when I'm this speechless."
Among bankers, Client Service Excellence Award went to Paula Bahamon of Mission Valley Bank. Karen Brown of First Bank took home the Innovation Leadership Excellence Award.
Recognizing insurance professionals, the Client Service Excellence Award went to Barry Cohn of Really Great Employee Benefits; the Innovation Leadership Award was for Teri Frankel of Leavitt Insurance Services; and the Trailblazer Award went to Byrdie Pompan of Clear Health Advisors, who came to the health sector after two decades at Hollywood's Creative Artists Agency.
Wealth managers received their due as Shawn Shafer of UBS Financial Services won for Client Service Excellence and Sarah Reznick of Edward Jones took home the Trailblazer Award.
Reznick, who left Iran in 1979 "in my mom's belly," thanked several of her mentors, including another finalist for the awards, Don Lanson of Manfredi Levine Eccles Miller and Lanson.
The final awards recognized community service. Vrezhui Missakian of Vrezhui Missakian CPA, active on the board of Valley Community Healthcare won, as well as Jake Furlow of Wells Fargo Private Bank, who works with American Youth Soccer Association, Conejo Youth Basketball Association and 101 Rams Pop Warner Football.
Other finalists for the awards were: Gary Barr, Alpert, Barr & Grant; Victor Berrellez, US Bank; Matthew Crisafulli, ACap Asset Management Inc.; Dennis DeYoung, Western International Securities Inc.; Gabriel Duarte, Musick, Peeler & Garrett; Christopher Dukes, Dukes Wealth Management Inc.; Cynthia Flynn, Hackler Flynn & Associates, Apc; Darren Freedman, TroyGould; Karen Gabler, LightGabler; Don Izen of Izen Insurance; Don Lanson of Manfredi Levine, Eccles Miller and Lanson; Tom McCann, Steel Peak Wealth Management; Tom Means, PCH Benefits & Insurance Services; Charles Parry of Merrill Lynch; Doug Ridley of Ridley Defense; Joseph Seetoo, Morton Capital Management; and Rebecca Thompson of Gaines & Stacey.